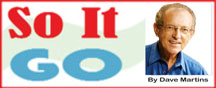 Guyana has a range of introspective people, and you meet them in the most unexpected places.  Last week, for instance, a man on the Robb Street pavement came up to me, started talking Tradewinds, and we ended up in a long rambling conversation on a variety of things. It was an interesting gaff – this was an interesting fellow – and in the course of it he said, "In all these places you've been over the years, you must have seen people pull off some slick moves, eh?" Perhaps he may have been probing for the origins of songs, but I was in a hurry so I told the fellow I would give it some thought and maybe do a So It Go on the subject. So here we go, Robb Street.
One early memory for me comes from the time I was working at BG Airways at Atkinson Field (now Timehri) and there was a labour dispute with the workers threatening to strike.  A high-level delegation came up from town and there was a meeting in the hangar with all the staff. The union head was there, as was Desmond Crooks the airline manager, and the government delegation was led by Forbes Burnham.  Art Williams was there, standing at the side in his dark glasses and drawing on his cigarette holder.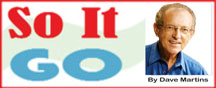 At the end of the meeting, after several persons said their piece, Mr Burnham, speaking very softly, without even getting up from his chair, delivered a very measured summary, and I recall he ended by saying something like "If the criticisms of the employees by management turn out to be true, that will be unfortunate. However, if the complaints being raised by the workers are valid, that will be equally unfortunate.  We shall see." The memory here is not so much what Mr Burnham said, but the slick practised flair with which he said it. The delivery was oratory. Even Art Williams, standing close to me, said, "He's a smooth operator, that's for sure."
There is a memory, too, of another example of that style. This comes years later. Tradewinds are in Guyana, Blade O' Grass is in high gear, and the President invites us to meet him in the conference room at the Cultural Centre.  Our group is six: the five band members and our agent in Guyana, Freddie Abdool.  Mr Burnham is very gracious, says how much he loves the song, tells me his favourite line is "not one cuirass," the chat goes around to the various band members, and then the Kabaka says to Freddie, "Freddie Abdool. How are you?" He shakes Freddie's hand. "I remember your family. You're related to Sonny Ramphal, right?"  (Some background: Mr Ramphal and Mr Burnham had, as Guyanese say, come wrong and Mr Ramphal had left the country and embarked on a very extended diplomatic career.)  "By the way," said the President, "How is Sonny?"  Freddie responds, "Well you know Sonny. He's all over the place."  Mr Burnham laughs, "Yes, Sonny is like God; he is everywhere."  He pauses. "In fact, Sonny is better than God, because while God is everywhere, Sonny is everywhere except where he should be."  Another laugh.  I remembered his earlier "equally unfortunate" remark at Atkinson Field, and said to myself, "That's the same man."
The entertainment business is full of memorable people.  Noel Agostini of Trinidad was one known for his sharp appearance – tailored suit, leather briefcase, polished shoes – and for his equally sharp business tactics. One of his ventures was a Caribbean tour of the popular American soul singer Carla Thomas who always travelled with her pet Chihuahua.  With the singer in Trinidad, the Guyanese promoter calls Noel to say ticket sales are dead slow. Anticipating a cancellation, Noel cancels Carla Thomas's airline ticket to Guyana, but four days later the Guyanese calls back to say there has been a surge in sales and the theatre is sold out. Noel calls BWEE, but flights to Guyana are fully booked. Noel has contacts, and he calls them, but nothing doing; no space.  Noel tells Carla nothing. He says, "We're going to Guyana. A taxi will come for you in an hour.  I will meet you at the airport."  Noel dashes up to the airport.  He grabs two of the skycaps outside BWEE where departing passengers arrive. He gives them each US$20 and says, "You see these cars pulling up here?  Before they get out the car, ask them if they're travelling to Guyana. If they say they are, tell them the flight is cancelled until tomorrow, so go back to town."  The result was three cars with passengers destined for Guyana didn't check in.  Carla Thomas had room for herself and a seat for her Chihuahua.
Slick moves that impress you aren't always mental.  In my first job in Guyana, I was a Diesel apprentice at Booker's Shipping.  It was a drudge of a job, but the guys were a delight.  One of them was a short half-Chinese engineer called, what else, Chin.  He couldn't have been much more than five feet tall, but handsome as the devil, and a rampant womanizer.  I asked him once how he made out with the tall girls, and he said, "There ain't no law against lying down."  Another slick operator in that shop was a tall, rangy blacksmith – I believe his name was Waldron – who would bring the whole mechanic shop to a halt with his musical hammering at the forge.
Waldron would have a piece of red-hot metal on the anvil, and his helper would be hitting it in slow measured blows with a sledge, like a bass drum, while Waldron, on the other side, would be raining blows with a small hammer on the metal, on the sledge, back and forth, like a masquerade kettle drum musician.  It was captivating.  Every time he did it, everybody stopped to listen.  In fact, Mr Iles, the foreman, eventually banned Waldron's slick musical show.  "This is a mechanic shop; we come here to work, not dance."
I had planned to tell you about a couple other slick moves I've seen, but I'm running out of space so that's for bam bye. For now, Robb Street, I leave you with Forbes Burnham, Noel Agostini, Chin and blacksmith Waldron – each of them, in their own way, very slick movers.