Brandade is a dish made of salt fish that has been whipped to create a light, fluffy texture. It can be served as a dip or spread or be baked with a crusty topping in the style of a gratin. It is both a French and Spanish dish, while supplemental ingredients vary the star of the dish in both versions is salt fish, particularly salted cod.
The French call it Brandade de Morue and the Spanish call it Brandada de Bacalao. Morue being the French name for salt cod and bacalao being the Spanish name for salt cod.
Brandade is basically an emulsion, so that means we are combining ingredients using a particular method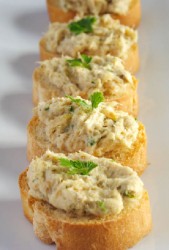 in order for them to become a unified mass. Think of making a mayonnaise or an aioli – the oil and yolks must be whipped together to develop body and become something altogether different than what they are separately. In the case of a Brandade, the salt fish, along with the garlic, cream and oil gets emulsified, thereby become this light, soft, savoury spread.
A stand mixer, a hand mixer, food processor would make easy work of mixing the ingredients but if you're like me and you like a challenge or don't have any of the equipment I just mentioned, then a balloon-whisk will work well. It will give the arms a bit of a work out (smile).
INGREDIENTS
1 pound boneless salt fish, soaked overnight in boiling water
1 bay leaf
2 sprigs fresh thyme
Water
1 head of roasted garlic
½ cup heavy cream (substitute with canned evaporated milk)
½ cup canola oil, divided in half (use Olive oil if you like the flavour)
1 tablespoon minced parsley
¾ teaspoon grated nutmeg (preferably freshly grated)
½ – 1 teaspoon lemon juice
Freshly ground white or black pepper to taste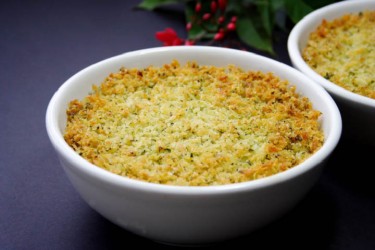 TOOLS & EQUIPMENT
3 saucepots
1 (2 – 3 inch deep) saute pan
1 wooden spoon
1 whisk
1 mortar and pestle or electrical processing equipment
DIRECTIONS
1.  Remove the salt fish from the water it has been soaking in overnight, place in saucepot, cover with fresh water along with thyme and bay leaf and bring to a boil for 15 – 20 minutes (it is important that the fish retain enough of its salt to taste and season the dish).
2.  Drain boiled salt fish, and pat dry. Discard bay leaf and thyme springs. Using a mortar and pestle, or your fingers, pound or shred the salt fish very finely. Alternatively, put it in a food processor to shred finely. Set aside.
3.  Squeeze the pulp of the roasted garlic from its casings and mash until creamy.
4.  Add cream and mashed garlic to a saucepot and whisk gently mixing the two ingredients. Place pot on low heat and warm gently, do not simmer or bring to a boil. All you want to do is infuse the milk with the garlic.
5.  Add ¼ cup of oil in another saucepot and warm gently over low heat.
6.  Meanwhile, heat the remaining ¼ cup of oil in saute pan on medium heat. Add the shredded salt fish, reduce heat to low and stir, mixing and tossing until the salt fish has absorbed the oil, keep stirring and mixing for another 1 – 2 minutes. Remove pan from the heat.
7.  Remove the other saucepots with cream mixture and oil also from the heat.
8.  Gradually, alternating, add the cream-garlic mixture and the heated oil, to the salt fish constantly whisking to thoroughly incorporate, be sure that each addition of the cream and oil are fully incorporated before adding another set. Therefore, add the cream and mix in then add oil and mix in until all have been added to the salt fish. Add 1 tablespoon at a time. The desired consistency is that of a thick creamy paste. If you are using a mixer or food processor, add the cream and oil as the machine is still running. If working with your hands and using a balloon whisk, keep whisking as the ingredients are added; this is important to the Brandade having the right consistency and texture.
9.  Season the mixture by stirring in the nutmeg, lemon juice, pepper and parsley.
10.  Serve with toasted toast points (slices of bread cut into triangles) or sliced baguettes.
NOTES
●  This dish can be served as a dip – add more heated cream and oil to the mixture to give it that dip like consistency
●  Mashed potatoes can be added to give this dish more body, however, adding too much potato can dilute the wonderful salt fish flavour.
●  Make this dish into an au gratin by sprinkling the top with breadcrumbs and a drizzle of oil. I'd suggest moistening the breadcrumbs with the oil and then sprinkling it on top for even browning. You can also opt to add some freshly chopped herbs to the breadcrumbs.
Around the Web