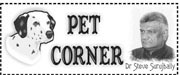 For one thing, I have observed that, over the past few decades, more and more publications, articles, surveys, research projects and studies are being documented.  I dare say that the affluence of certain societies is conducive to the quest for more knowledge about pets which are now becoming more affordable.
In North America, scientists have carried out research projects to ascertain which TV programmes dogs prefer, which breeds dream about chasing birds or burglars and why dogs wag their tails, obviously not just to communicate with us humans, since they wag their tails for other dogs, cats, horses, mice and even moths.  Personally I believe that tail wagging is just a 'barometer' to register the degree of canine happiness.  Yet when someone gives a dog a bowl of food he wags his tail, but when the same dog walks into an empty room and sees the same bowl of food, the tail doesn't wag.
Let's look at some of the research findings, all relating to North America: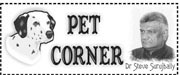 (1)  One third of dog owners talk to their dogs by phone when they are away from home.  (Actually, 78 per cent believe their dogs talk back to them when they bark, whine or whimper).
(2)  In 38 per cent of divorce proceedings in which neither party wishes to give up custody of the pet, the judge rules in favour of the wife in 81 per cent of the cases.  (Men are allowed visitation rights in only 11 per cent of the cases when men lose custody of the pet, as opposed to 83 per cent for the women when they lose the custody battle.)  Remember, these figures are up in North America.  In Guyana, the separating spouses might wish to palm the pet off on the other.
(3)  Thirty-eight per cent of dog owners have admitted calling their spouses by the dog's name. 'Bitch' does not count in the putting together of these statistics. I do believe that the caller will be placed in the doghouse by the callee for some time after such a mistake.
(4)  In the US of A, over one million persons have "fetched their poor dog a bone" by naming their dogs beneficiaries in their wills.
(5)  Eighty-six per cent of dog owners adorn their dogs with ribbons, scarves, sweaters, raincoats or winter jackets.  Leashes and collars are decorated with jewels, sparkles, fancy embroidery, etc.
(6)  Dogs seems to prefer the TV shows 'Wheel of Fortune,' 'Oprah' (so what's new) and 'David Letterman' (not Jay Leno?). Dogs' favourite video is 'Bugs Bunny' (that figures – they want to eat the wabbit).
(7)  Eighty-seven per cent of dog owners carry a picture of their pet(s) in their wallet, while only 55 per cent carry a picture of his/her spouse.
(8)  Sixty-three per cent of dog owners say they kiss their dogs.  Fifty-one per cent allow the dogs to lick their faces to return the affection.  In Guyana the figure would probably be the same if the verb were 'kick' instead of 'kiss.'
(9)  Dogs' names have changed over the years.  In North America the top male dog names are Max, Rocky, Lucky, Duke, King, Rusty, Prince, Buddy, Buster and Blackie.  For female dogs, the most popular names are Princess, Lady, Sandy, Sheba, Ginger, Brandy, Samantha, Daisy, Misty and Missy.  'Rex' and 'Lassie' are out.  People actually did this research.
In Guyana, we have interesting names for dogs.  For example, I know of jet black dogs being named 'Bruno.'  Emaciated, anaemic, listless dogs are named 'Goliath' and 'Tyson' and 'Tarzan.'  I have encountered a dog blind in one eye, with a paralysed hind leg, totally emaciated and with a high grade tick and flea infestation; his name was 'Lucky.'   'Rio,' which was a popular dog name a few decades or so ago, is almost non-existent.  I suppose the generation which knew of 'Rio,' the first dog in the Police Force of the sixties, has died out.  Wags, of that era, were convinced that 'Rio' was the only civil servant who earned his keep.  The other day, I saw a spotted dog with the moniker 'Checkers.'  Nowadays, a favourite name for a Guyanese dog is 'Osama.'  Twelve years ago, it was 'Janet' and 'Desi.'
Let me plagiarize from Dave Martins and end with "So it guh."
Please implement disease preventative measures (vaccinations, routine dewormings, monthly anti-heartworm medication, etc) and adopt-a-pet from the GSPCA's Animal Clinic and Shelter at Robb Street and Orange Walk, if you have the wherewithal to care well for the animals.  Do not stray your unwanted pets, take them to the GSPCA's Clinic and Shelter instead. If you do not wish your pet to have puppies or kittens, you may exploit the GSPCA's free spay and neutering programme. If you see anyone being cruel to an animal, or if you need any technical information, please get in touch with the Clinic and Shelter by calling 226-4237.
Around the Web