The issue of the holding local government elections has dominated the news in recent days. The Local Government Minister contended that the vast majority of Guyanese do not want elections and that if elections were to take place now, only 30 per cent of the voters would turn out to cast their ballots. He further contended that a lot of work was needed to prepare voters and that holding elections at this stage would be a waste of money. These are extraordinary statements coming from the Minister, as his source of information about voter attitude towards local democracy remains a mystery.
The Minister's statements as well as those of the PPP's General Secretary about the lack of readiness of the Guyana Elections Commission (GECOM) prompted Stabroek News to editorialise on the matter on two occasions. The editorial took the Minister to task for his assessment that "would have to be ranked as the most inept and ill-informed and is of the tenor of the sophistry that preceded the 1992 general elections". It also criticised GECOM for its silence on the matter and for allowing Government officials to make pronouncements about the Commission's readiness.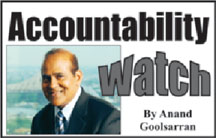 Mr. Christopher Ram weighed in on the controversy. He considered the Minister's statement to be "outstanding for its disconnect with the Constitution of Guyana and the laws relating to local government elections". Mr. Ram also referred to the fact that there is a full-time Elections Commission that received over $10 billion between 2007 and 2013, excluding the election year of 2011. He further stated that the Minister had no discretion as to whether citizens wanted such elections or not.
The ABC countries (USA, Britain and Canada), along with a number of civil society organizations, issued a joint statement calling for local government elections by 1 August 2014. The statement noted that international development agencies have long recognised the tangible benefits of local democracy going far beyond the act of casting a vote, and that elections would bring "much needed reinvigoration into local government entities". It further stated that "Effective and efficient public administration coupled with healthy local governance can drive development efforts. Local government institutions bring government closer to the people, fostering greater inclusion, civic responsibility, empowerment and participation…. It is only when people have transparent and accountable institutions at all levels of government – national, regional, and local, will they have confidence in their future". The statement also reminded the political parties of their pledge in 2011 to hold local government elections as a priority.
Constitutional provisions
A sizeable section of the Constitution is devoted to local democracy.  Article 171 (1) states that local government is a vital aspect of democracy and shall be organized so as to involve as many people as possible in the task of managing and developing the communities in which they live. The other relevant articles are as follows:
Article 72 (3): Municipalities, neighbourhood democratic councils and such other subdivisions shall be provided for under paragraph (1), including village and community councils, where there is the need for such councils and where people request their establishment, shall be vital organs of local democratic power;
Article 74 (1): It shall be the primary duty of local democratic organs to ensure in accordance with law the efficient management and development of their areas and to provide leadership by example;
Article 74 (2): Local democratic organs shall organize popular co-operation in respect of the political, economic, cultural and social life of their areas and shall co-operate with the social organizations of the working people;
Article 74 (3): It shall be the duty of local democratic organs to maintain and protect public property, improve working and living conditions, promote social and cultural life of the people, raise the level of civic consciousness, preserve law and order, consolidate the rule of law and safeguard the rights of citizens;
Article 75: Parliament shall provide that local democratic organs shall be autonomous and take decisions which are binding upon their agencies and institutions, and upon the communities and citizens of their areas;
Article 76: Parliament may provide for regional democratic councils to raise their own revenues and to dispose of them for the benefit and welfare of their areas;
Article 78: Parliament may make provision for the election of members of local democratic organs (including the commencement of balloting before the day appointed for holding an election) and for all other matters relating to their membership, powers, duties, functions and responsibilities;
Article 78A: Parliament shall establish a Local Government Commission, the composition and rules of which empower the commission to deal with  as it deems fit, all matters related to the regulation and staffing of local democratic organs and with dispute resolution within and between local government organs; and
Article 78B: The electoral system in respect of local democratic organs below the regional democratic councils shall provide for the involvement and representation of individuals and voluntary groups in addition to political parties and accountability to electors.
Most of us will disagree with certain aspects of the Constitution, especially the excessive powers of the President and the type of electoral system it establishes without recognizing the sensitivities involved in the ethnic composition of our society. Notwithstanding this, there is no denying that the section dealing with local democracy is indeed admirable in terms of its content since it provides, among others, for the active involvement of local residents in deciding who amongst them should be involved in the administration and management of the affairs of their communities.
The reality of the situation is, however, quite different. No local government elections were held since 1994 although the law requires such elections to take place every three years. This serious constitutional violation prompted the National Assembly to approve an amendment to the related legislation to provide for the holding of elections by 1 August 2014. However, the President has yet to assent the related Bill.
In addition, the Government disbanded many of the local democratic councils and replaced them with interim management committees, comprising handpicked individuals. This action is inconsistent with established democratic norms that we have embraced since 1992. There is also overwhelming evidence of a lack of financial accountability. For example, in respect of the six municipalities, there have been no audited accounts for on average 15 years.
A similar situation prevails in respect of the 65 Neighbourhood Democratic Councils (NDCs) where 52 of them did not have audited accounts for the last five years. A total of 18 NDCs have also never produced audited accounts since they were established in 1994.  This is despite the fact that the municipalities and NDCs are in receipt of significant amounts of money from the Treasury as subsidy, not to mention rates and taxes being collected from local residents.
Further, one only needs to reflect on the physical state of our capital city to appreciate the effects of a lack of democracy at the local level.  Because of fierce wrestling for political control of the Georgetown City Council, roads are in a state of disrepair; canals and drains are clogged with weeds and garbage; flooding is a regular occurrence after a few hours of moderate rainfall; huge piles of garbage with unbearable stench are left unattended; and sewers are overflowing. Georgetown, having for a long time been considered the garden city of the Caribbean, is sadly now the garbage city.
Leadership and Democracy Project
The USAID Leadership and Democracy Project was launched on 24 July 2013. It was the direct outcome of the 28 November 2011 general elections that saw for the first time in the history of Guyana a minority government and an Opposition-controlled legislature. According to US Ambassador D. Brent Hardt, the United States recognized that this new scenario offered hope for a "win-win" for the people of Guyana in which all parties had a seat at the table and an ability to shape governance. It also recognized that this new configuration would pose many challenges which, if not handled with a spirit of compromise and a focus on the national interest, could lead to stalemate and frustration.
An integral part of the LEAD Project relates to the citizens' education in preparation for local government elections. However, the Government had rejected the Project, claiming that it was not properly consulted. The Government was also not happy with some aspects of the Project. After separate meetings with the US Embassy and Cabinet, the Private Sector Commission saw merit in the Project and therefore endorsed it. The LEAD Project would address the Local Government Minister's concern about voter preparedness. However, the status of the Project remains unclear.
Conclusion
Guyana has had a sad history of embracing democratic norms. With the assistance of the United States, change came about in 1992, ushering in the dawn of a new era. In 1994, we held our first local government elections after 24 years. Regrettably, we have failed the nation in not maintaining the momentum since for six consecutive occasions, i.e. 1997, 2000, 2003, 2006, 2009, and 2013, we have denied our citizens their democratic right to choose among them who should administer and manage the affairs of their communities.
Local democracy is an integral and indispensable aspect of any democratic system. As such, all parties involved should get their act together to hold local government elections without further delay. We must cease thinking that the exercise of our democratic right one day in every five years is what constitutes democracy. On the contrary, democracy must be practised every day in the affairs of the State. When this happens, it is only then that we can tell ourselves, and indeed the world, that true democracy prevails in our dear land.
Comments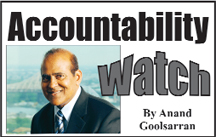 Last Monday, the United Nations Framework Convention on Climate Change began its meeting in Bonn, Germany, mainly to review progress made since the 2016 Paris Agreement on climate change to which 197 countries are signatories.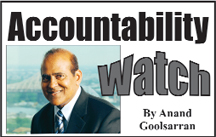 This article is based on a presentation that I made at Moray House last Thursday evening.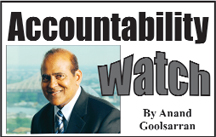 A few weeks ago, I made a presentation on behalf of the Transparency Institute Guyana Inc.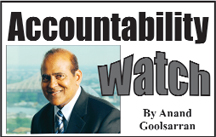 At a recent function to rename the Centre of Caribbean Studies at the University of Warwick in honour of our renowned business icon Yesu Persaud, I met Mr.
Audit is not an end in itself, but an indispensable part of a regulatory system whose aim is to reveal deviations from accepted standards and violations of the principles of legality, efficiency, effectiveness and economy of financial management early enough to make it possible to take corrective action in individual cases, to make those accountable accept responsibility, to obtain compensation, or to take steps to prevent or at least render more difficult, such breaches.