"Iwokrama's mission is to develop strategies for conservation and sustainable development of the tropical rain forest system for local people in Guyana and the world at large. Come visit us in the Rain Forest or at our office, 77 High Street, Kingston, Georgetown. We are online: http://www.iwokrama.org. Also check for updates on our Facebook Page: https:// www.facebook.com/#!/IwokramaInternationalCentre


Apoteri Village in Region 9 sits at the confluence of the Rupununi and Essequibo rivers. Here you can see the dramatic "meeting of waters" where the white water of the Rupununi and black water of the Essequibo merge.
Guyana's largest river, the Essequibo, is commonly referred to as a black water river. The tea-coloured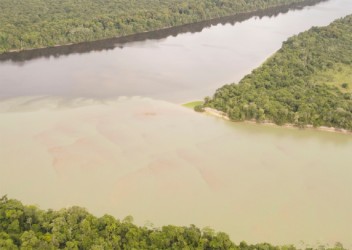 appearance of the water is a result of tannins seeped out of leaves from the forest that border the great river, and the water remains this colour as the river bottom is made up of rock and sand. The white or milky colour of the Rupununi River is due to the clay and soil that form the river  bed, which then washes into the river and changes the tannin/tea colour to white.
The Iwokrama River Lodge and Research Centre is situated near the Kurupukari Landing on the bank of the Essequibo River. This is just a small part of the Iwokrama Rain Forest which covers 371,000 hectares (one million acres) of tropical forest in the heart of Guyana.
Comments
Since the festival of Christmas commands a pre-eminent position – of observance and celebration – on Guyana's Annual Calendar of National Events, I thought I'd pen a few lines to provoke thought and meditation relevant to the "Real Reason for the Season".

To mark the anniversary of Martin Carter's passing on December 13, 1997, Gemma Robinson looks at Carter's Poems of Succession, published 40 years ago this year.
By Naicelis Rozema-Elkins It is about time, past due in fact, that the problem of sexual assault by teachers in our school system is addressed.

Focus on Guyana's National Budget 2018 represents the twenty-eighth edition of this Ram & McRae annual publication which highlights, reviews and comments on the major issues surrounding and raised in the National Budget.

By Mark Leonard LONDON – Over the last few weeks, media around the world have been saturated with stories about how technology is destroying politics.