A former professor of late Venezuelan president Hugo Chávez has just published a report on Venezuela's political crisis, and his conclusions are disquieting — he says the most likely scenario in that country is a military coup.
Andrés Serbin, an Argentine political scientist who lived for many years in Venezuela and was his political science professor at Venezuela's Simon Bolivar University in the early 1990s, says in his paper that Venezuela's political crisis — which has already left 39 dead and hundreds of wounded – is likely to worsen.
Growing food shortages, the world's highest inflation levels, record homicide rates, and President Nicolás Maduro's bloody repression of opposition demonstrations are resulting in "an increasing tendency to turn to violence" by all sides.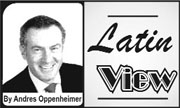 The report, entitled 'Venezuela in Crisis' and published by the Netherlands-based Global Partnership for the Prevention of Armed Conflict (GPPAC) came out only days before Maduro announced the arrest of three air force generals for allegedly plotting a coup. Maduro, who denounces alleged conspiracies on an almost daily basis, has not yet given details on the case.
Serbin's study says the most "highly likely" scenario is anarchy, followed by "the possibility of a military intervention by nationalist-institutional sectors of the armed forces."
In a telephone interview from Argentina, Serbin told me that these "nationalist-institutional" sectors within the armed forces resent the power of Cuban military advisers, as well as the government creation of Bolivarian paramilitary groups. In addition, the nationalist-institutional sectors are reluctant to get involved in the repression of opposition demonstrations, he said.
"To avoid the possibility of a coup, it is more urgent than ever that moderates from the government and the opposition start a dialogue mediated by an external actor, such as the Vatican, or Unasur (Union of South American Nations)," Serbin told me.
Some well-known Venezuelan analysts are sceptical of the possibility of a military coup, because the Bolivarian Armed Forces officials are making more money than ever. They cite that oil-rich Venezuela imports virtually everything, and that the military and their business associates control most of the country's imports.
At least 43 per cent of Venezuela's imports, including essential foodstuffs, are run by government agencies that are mostly run by active duty or retired military officers. And the remaining imports are controlled by friends and relatives of high-ranking military officials.
"Why would the military want to get rid of Maduro, who gives them everything they want," Luis Vicente Leon, head of Venezuela's Datanalisis polling firm, told me. "The military are the most interested that Maduro remains in power."
Other Venezuelan analysts argue that their country has already undergone a slow motion military coup. More than 1,600 military officers have been appointed to senior government jobs since Chávez took office in 1999, and pretty much run the government, according to a study by sociologist Eduardo Guzman Perez.
Control Ciudadano, a Venezuelan non-government group, says that 25 per cent of Maduro's cabinet, including the key interior and finance ministries, and 52 per cent of the state governorships are held by active duty or retired military officers.
In addition, Maduro has promoted record numbers of officers to generals, to the point that Venezuela's 120,000-strong military has about 1,200 generals, which may be a world record for a military of that size. But while Chávez had a firm control over the military, Maduro is a weaker president who may be in many ways controlled by the military.
"Under Chávez, there was a vertical control of the armed forces, whereas now we are seeing an atomization of power within the military," says Rocio San Miguel, director of Venezuela's Control Ciudadano organization. "Today, the military is more powerful, because they control more fiefdoms, with fewer controls."
My opinion: While Venezuela is not a conventional military government, it is certainly a militarized government, in which even civilians — like Maduro — dress up in military-looking uniforms. That does not justify a military coup to restore democratic freedoms — history has proven that there is no such thing as a 'good' coup — but it should move the international community to support a negotiated solution to Venezuela's crisis.
Even Maduro's allies in Latin America, such as Brazil, should put pressure on Maduro to engage in serious negotiations for a re-establishment of the rule of law, including creation of an independent electoral system and re-establishment of press freedoms. The alternative, as Serbin pointed out, may be a military coup, or a self-coup from within Venezuela's Bolivarian Armed Forces, and a new cycle of even greater violence that could lead to a civil war.
[Editor's note: This column was written before President Maduro and the opposition agreed to meet for dialogue.]
© The Miami Herald, 2014. Distributed by Tribune Media Services.
Comments
CARACAS/HOUSTON (Reuters) – Venezuela's unraveling socialist government is increasingly turning to ally Russia for the cash and credit it needs to survive – and offering prized state-owned oil assets in return, sources familiar with the negotiations told Reuters.
By Carl Bildt CHICAGO – We are now in the final days of the industrial age.

During Men's Health Week, the man/woman in the street were asked to speak on their lifestyles and what they do to maintain their health or to encourage their significant others to lead healthy lifestyles.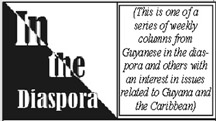 By The Caribbean Voice There are no reliable statistics on the amount of persons engaging in the use of illegal drugs or those described as addicts.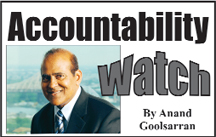 In last week's article, we referred to the two recognized methods of accounting for costs relating to the exploration, development and production of crude oil and natural gas: the "successful efforts" (SE) method and the "full cost" (FC) method.