This is a Rupununi Rattlesnake (Crotalus durissus trigonicus) that was found last October while the World Wildlife Fund-Guianas and Global Wildlife Conservation were conducting a survey in Guyana's south Rupununi savannah.
The Neotropical rattlesnake (Crotalus durissus sp.) has the largest range of any rattlesnake species, occurring in all countries of South America except for Chile and Ecuador. There are many recognised subspecies, with this sub species only currently known to occur in the Rupununi savannah.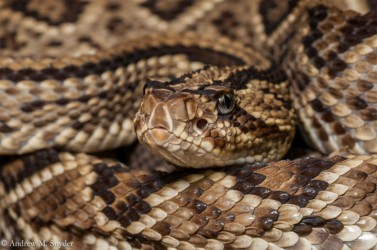 This species is able to make use of a variety of habitats including open grassland, and savannah, desert, and rocky forested areas, seemingly everywhere except for tropical rainforest.
Recent studies have found that their diet consists almost exclusively of small mammals, with less than 5% of their diet consisting of lizards.
Iwokrama's mission is to develop strategies for conservation and sustainable development of the tropical rain forest system for local people in Guyana and the world at large.  Come visit us in the Rain Forest or at our office, 77 High Street, Kingston, Georgetown. We are also online at http://www.iwokrama.org. Also check for updates on our Facebook Page-
https://www.facebook.com/IwokramaInternationalCentre
Around the Web