During chess legend Garry Kasparov's visit to Jamaica in April, he was asked to give compelling reasons why he should succeed the incumbent Kirsan Ilyumzhinov as president? He highlighted some of the difficulties with the current administration:
1. FIDE is stagnating due to corruption and inefficiency.
2. Underdevelopment of many countries and lack of support from FIDE, especially in Africa and Asia.

 3. FIDE's low budget and its failure to attract significant corporate sponsorship.
4. FIDE is charging the various federations fees, instead of supplying them with resources and other forms of assistance.
Kasparov argued that if he is elected president of FIDE things would improve significantly, as among other things, he has fresh ideas and would bring energy to chess, and breathe new life into FIDE.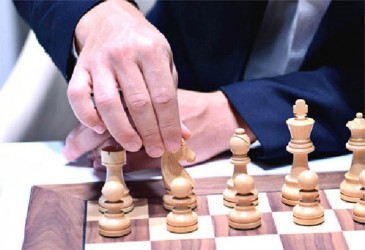 He would attract sponsorship from the corporate world, develop the royal game in the neglected continents and use his profile to improve what he maintains is FIDE's badly damaged image.
Chess games
During his recent visit to Jamaica, Kasparov said that the finest game of chess that he ever played was his pivotal Game 24 of his 1985 match with Anatoly Karpov in Moscow. He rated that game above his famous Immortal Game against the Bulgarian grandmaster Veselin Topalov, at Wijk aan Zee in 1999. I am giving both games so that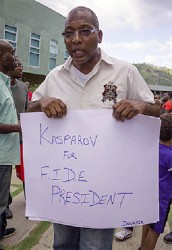 readers can make their assessments.
Date 1985.11.09
Round 24
Result 0-1
White Anatoly Karpov
Black Garry Kasparov
1.e4 c5 2.Nf3 d6 3.d4 cxd4 4.Nxd4 Nf6 5.Nc3 a6 6.Be2 e6 7.O-O Be7 8.f4 O-O 9.Kh1 Qc7 10.a4 Nc6 11.Be3 Re8 12.Bf3 Rb8 13.Qd2 Bd7 14.Nb3 b6 15.g4 Bc8 16.g5 Nd7 17.Qf2 Bf8 18.Bg2 Bb7
19.Rad1 g6 20.Bc1 Rbc8 21.Rd3 Nb4 22.Rh3 Bg7 23.Be3 Re7 24.Kg1 Rce8 25.Rd1 f5 26.gxf6 Nxf6 27.Rg3 Rf7 28.Bxb6 Qb8 29.Be3 Nh5 30.Rg4 Nf6 31.Rh4 g5 32.fxg5 Ng4 33.Qd2 Nxe3 34.Qxe3 Nxc2 35.Qb6 Ba8 36.Rxd6 Rb7 37.Qxa6 Rxb3 38.Rxe6 Rxb2 39.Qc4 Kh8 40.e5 Qa7+ 41.Kh1 Bxg2+ 42.Kxg2 Nd4+ 0-1.
Site Wijk aan Zee
Date 1999.01.20
Result 1-0
White Garry Kasparov
Black Veselin Topalov
1. e4 d6 2. d4 Nf6 3. Nc3 g6 4. Be3 Bg7 5. Qd2 c6 6. f3 b5 7. Nge2 Nbd7 8. Bh6 Bxh6 9. Qxh6 Bb7 10. a3 e5 11. O-O-O Qe7 12. Kb1 a6 13. Nc1 O-O-O 14. Nb3 exd4 15. Rxd4 c5 16. Rd1 Nb6 17. g3 Kb8 18. Na5 Ba8 19. Bh3 d5 20. Qf4+ Ka7 21. Rhe1 d4 22. Nd5 Nbxd5 23. exd5 Qd6 24. Rxd4 cxd4 25. Re7+ Kb6 26. Qxd4+ Kxa5 27. b4+ Ka4 28. Qc3 Qxd5 29. Ra7 Bb7 30. Rxb7 Qc4 31. Qxf6 Kxa3 32. Qxa6+ Kxb4 33. c3+ Kxc3 34. Qa1+ Kd2 35. Qb2+ Kd1 36. Bf1 Rd2 37. Rd7 Rxd7 38. Bxc4 bxc4 39. Qxh8 Rd3 40. Qa8 c3 41. Qa4+ Ke1 42. f4 f5 43. Kc1 Rd2 44. Qa7 1-0 .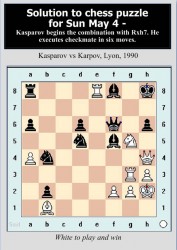 Around the Web