The landslide election of pro-business candidate Narendra Modi as India's new prime minister is likely to shake up that country's politics and jump-start its economy, but it could also have a big impact on the world economy and emerging markets.
Modi, who takes office tomorrow, won a resounding victory by focusing on the economy and stressing the need to encourage investments to speed up the country's sluggish growth.
For the first time in three decades, Modi's opposition party will have a majority in India's 543-seat lower house of parliament. The long-ruling Congress Party lost three quarters of its seats.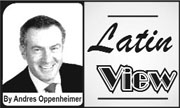 Modi may be no saint — he was denied a US visa for several years for allegedly failing to stop abuses against the Muslim minority in his home state — but his promise to lure investments and revitalize the economy won him massive support from many of the 150 million youths who voted for the first time this year.
Modi vows to build up India's crumbling infrastructure — the country's roads and bridges are several decades behind those of China's — and develop the country's manufacturing sector. Unlike China, India's economy has been largely reliant on services, and its manufacturing sector accounts for less than 20 per cent of the country's economy.
"India has a chance of returning to its previous 8 to 10 per cent annual growth rates, because he has a clear agenda of promoting growth and employment," World Bank economist Martin Rama, an India specialist, told me this week.

If India's economy starts growing rapidly in coming years, it will be good news for several Latin American countries and not-so-good news for others.
On the positive side, a rapidly growing India will buy raw materials and drive up commodity prices, which will benefit South American countries that export copper, iron and soybeans.
On the negative side, a rapidly growing India would compete with Latin America for foreign investment at a time of decreasing interest in emerging markets. With a market of more than 1.2 billion people, India could draw many companies that could have otherwise invested in Latin America.
Also, if Modi succeeds in significantly expanding India's manufacturing sector, it could mean tougher international competition for Mexico and other Latin American manufacturing countries.
Until now, one of the reasons international companies have been reluctant to invest in India is the country's huge bureaucratic obstacles to doing business. Modi has vowed to radically change this. In the World Bank's ranking of "ease of doing business" in 189 countries around the world, India ranks 134th.
It takes 35 legal procedures to obtain a construction permit in India, as opposed to eight procedures in Colombia, 11 in Mexico, 15 in Chile or Brazil, and 24 in Argentina, according to the World Bank.
Rengaraj Viswanathan, a former head of India's foreign ministry Latin American department, is now a distinguished fellow with India's Council on Global Relations. He tells me that there are high hopes for Modi in Latin American diplomatic circles.
When a group of Latin American ambassadors visited several Indian states in 2012 and 2013 seeking meetings with governors to promote ties with the region, only two state governors received them, and one of them was Modi. "He has shown keen interest in educating himself about the region," Viswanathan says.
Modi's Gujarat state already accounts for more than 60 per cent of India's trade with Latin America. In 2013, Gujarat refineries imported $22 billion of Latin American crude oil — mostly from Venezuela, Mexico, Brazil, Colombia and Ecuador — and exported $3.3 billion of diesel to Brazil, Viswanathan says.
"Modi will boost trade and investment, and India will import more, export more, invest more, and will also attract more investment from Latin America," Viswanathan told me. "It will be a win-win for all."
My opinion: Modi's economic revolution, if it happens, will not take place overnight. Unlike China, India has a decentralized political system, in which states pursue different economic policies and are fiercely independent.
Also, the outgoing Congress Party will continue in control of the upper house of parliament and will likely try to obstruct many of Modi's economic reforms.
Still, we may soon see India becoming the rising star of the emerging world and proving once again, like China before, that countries need to draw investments and generate economic growth in order to reduce poverty. That alone would be a great example for several Latin American countries that are still scaring away, rather than encouraging, investments.
Comments
Since the festival of Christmas commands a pre-eminent position – of observance and celebration – on Guyana's Annual Calendar of National Events, I thought I'd pen a few lines to provoke thought and meditation relevant to the "Real Reason for the Season".

To mark the anniversary of Martin Carter's passing on December 13, 1997, Gemma Robinson looks at Carter's Poems of Succession, published 40 years ago this year.
By Naicelis Rozema-Elkins It is about time, past due in fact, that the problem of sexual assault by teachers in our school system is addressed.

Focus on Guyana's National Budget 2018 represents the twenty-eighth edition of this Ram & McRae annual publication which highlights, reviews and comments on the major issues surrounding and raised in the National Budget.

By Mark Leonard LONDON – Over the last few weeks, media around the world have been saturated with stories about how technology is destroying politics.