In another country Patricia Bacchus might be practising human rights law, but not in Guyana. In her view too much is wrong with the judicial sector here and the wheels of justice turn so slowly, her frankness would almost certainly attract contempt proceedings. Although qualified in the law, therefore, she has nevertheless taken the decision not to practise in her field.
Instead she is now the Chief Executive Officer (CEO) of a corporate company and while some might find this a far cry from human rights, for Bacchus helping to save a company which was in serious decline and saving the jobs of over 100 persons is enough to keep her going.
The young executive, who is the daughter of well-known Berbice attorney Mursaline Bacchus, was admitted to the bar in 2006, but she has never practised one day of law in the local courts. Although she has caused her father some "amount of grief" that she was not setting herself up to take over his practice, Bacchus feels that she is making more of an impact at Caribbean Containers Inc (CCI) where she is the CEO and the acting chair of the Board of Directors. She took up these two positions following the death of Ronald Webster.
In a recent interview with the Sunday Stabroek, Bacchus revealed that she had won advocacy competitions at law school and her lecturers thought she would have taken up advocacy law but she never had the passion for it.
"I think I was deterred to some extent by the state of our judiciary locally. My father would have taken me to court since I was twelve years old and the things that I witnessed and that I saw… I had more concerns about the fact that a prisoner was not wearing shoes and was being chucked into a box than I did for what was going on in the courtroom," she stated.
"I didn't see myself working in an environment that reminded me daily about the… the hardships that people face when they are in an unfortunate predicament; they may be innocent and why should they be subjected to this sort of treatment?"
Then she recalled going to court and after sitting waiting there was nothing to be done because something could not be produced or someone failed to turn up.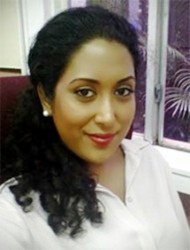 "I have a very low tolerance level for time wastage, inefficiencies… I am very frank about how I feel, how I see things, particularly when I know I am right. If I know that the law is on my side or that the merit of the case would demand certain things to be done and they are not done I am personally afraid of my reaction," Bacchus said frankly.
Her father has told her if she is held in contempt he would have to bail her. She pointed out that things in the boardroom work much faster and "actions are taken swiftly, holistically" while adding that it is a different productive environment.
While she wanted to study law she had not decided on whether she wanted to practise law. Some "indoctrination" would have been responsible for her studying law but she was also keen about the logic behind law as she gravitates towards logical deductions, strategising "in a very concise, logical, factual manner." Some amount of human rights consideration was a factor and she had narrowed her interest to human rights law when she graduated.
The 31-year-old executive has moved up quite quickly at CCI but she said her age and gender have never been issues. She does not know if she is oblivious to it but she had an experience which "turned on my age or gender" but in fact she was unanimously appointed as acting chair of the board by a group of older men.
"Maybe I am one of the lucky ones. I am in an environment where gender and age really aren't affecting my work," she commented.
All the persons working under her are younger, but the transition has not been difficult as Webster was an "impeccable" planner and succession planning was one of the areas on which he placed a lot of emphasis.
'Barely pay our bills'
Bacchus joined CCI as a consultant in 2006 – a position that should have lasted for three months – but she was subsequently appointed director of administration and then the chief operations officer at the beginning of 2012. At that time she also took over the day-to-day running of the company as it coincided with Webster being appointed Chairman of the Private Sector Commission.
When she took up the consultancy appointment Bacchus was just out of law school and was awaiting graduation, but Webster whom she calls her mentor, sold her on what they were trying to do at the time to keep the company going, and she agreed to help them with the legal aspects of negotiating with a bank to get a US$15M debt written off. It was a "tall task" but with the assistance of the external attorney they were able to come up with a plan for the restructuring of the company.
"In those three months I learnt so much about CCI and what it stood for, its operations, employees, that when the company secretary portfolio was offered to me at the beginning of 2007 I had no hesitation in accepting it."
Asked about how working at a corporate company and once wanting to practise human rights law meshed, Bacchus responded that it tied in quite nicely. She said while she had explored working in human rights in Guyana, there weren't many opportunities for substantive work in the field, and she had been considering some work with the Ministry of Human Resources & Social Security at the time she was recruited as a consultant, but Webster acted much faster than the ministry.
"When I joined this company we could barely pay our bills; we could barely pay salaries. We were facing the risk of letting go 150 employees; we hadn't appropriate arrangement in place for insurances for employees…" Bacchus said, adding that there were a number of issues affecting the welfare of employees who did not even have proper uniforms at the time.
When the debt was written off Bacchus said their emphasis was two-fold: they had a lot of equipment re-tooling to do and a lot of human resource issues to sort out in respect of training, compensation, health insurance, benefits etc. In the end not a single employee was let go and this she said contributed to her feeling of usefulness that they were doing something that helped over 100 persons. There is an annual salary assessment based on performance and each employee could see their salary being increased by 10%; the company pays out about 8% per annum in salary increases.
"So being fair to our employees is one of our stronger pillars here at CCI…" Bacchus stated.
Asked what would have been responsible for the decline of the company back then, Bacchus disclosed that when it started it was just a box plant and it imported all the paper to make the boxes, which was very expensive process and created a cash flow problem. It was then decided to build a paper recycling plant which could produce the paper needed for the box plant. The company faced a lot of problems building the paper factory, chief among them being a fire which destroyed all the equipment that came from India and which saw claims coming from the supplier for payment. There was also the insurance to deal with, and the problems dragged out tying up the money.
When the recycling plant was completed there were other problems, which included the repayment of the loan and a deficit in terms of the volume of material needed for recycling. This is a problem the company still faces which impairs the capacity of the plant and sees the importation of material from regional countries.
The fuel costs associated with running the plant were also very high, and remain so today. All of these issues triggered the decline of the company.
"But we have managed now to reverse it to a position where the company is profitable; it hadn't happened in over twenty years… Although it was small it speaks volumes [about] the reversal that we have managed to accomplish here… " Bacchus said, adding that a lot of individuals and financial institutions did not think it was possible.
The first profitable year was 2012 and then last year and hopefully again this year.
CCI was incorporated in 1978 and commercial operations commenced in 1983 with the box plant.
Food packaging
One of the company's most recent ventures was the launching of the distribution of its Eco Pak line of biodegradable food packaging containers. These are being imported, but it was hoped that the company would have started manufacturing the containers itself.
However, Bacchus said that this venture is not going as well as they anticipated as it would have been introduced on the basis of an expected restriction on the use of styrofoam and plastic locally. They took the step in 2012 and it was not envisioned that the restriction would have taken so long, but they wanted people to feel comfortable with the new product before the restriction came into effect. She said people still want to use styrofoam because it is cheaper.
"We still supply that product line; we still have some very faithful customers… but the volume sales have not been [good]" she said, adding that the company has definitely not reached the stage where it can start manufacturing the product.
"We are years away from that, I would say over ten years away from that," she stated, but gave the assurance that the company would continue to supply the product.
Asked about new plans for the company Bacchus said they are looking at diversification options that are in keeping with the core business which is the recycled product line.
Bacchus said she plans to remain at the company for the indefinite future.
And even while she worked at CCI, Bacchus also lectured in the law faculty of the University of Guyana for five years which she found fulfilling and enjoyable. She lectured in legal methods, research and writing, and she piloted a new course called the law and science, medicine and technology. Some conditions had to be waived for her to teach, since a lecturer must practise for some years and in her case she had never practised. But she returned to Guyana as the merit student from Trinidad – she topped the law school in the first year and she was second in the second year for the Caribbean. She also got straight As during her studies at UG.
She carried the piloted course for about four years but is unsure if it is still being offered. While she carried it by herself every other week she also had a guest lecturer. She eventually had to leave when she took on more responsibilities at the company.
She is presently the company's rep to the PSC, she is a director on the Guyana Gold Board, a director on the Protected Areas Commission Board, she is the chairperson of the Environmental Protection Agency on under the Ministry of Home Affairs to devise a strategy for violence reduction, which has just started.
Her activities outside school while growing up in Berbice included going to the convent or orphanage in the afternoons, or going with her grandfather who was a lay-minister for the Catholic Church to give communion at the prison or the mental institution or the old folks' home.
"I grew up very simple, very humble where all you wanted to do was help to make a difference," she said.
Around the Web