Colombia's opposition candidate Oscar Iván Zuluaga, who polls show is tied with President Juan Manuel Santos in the June 15 run-off, says one of his first foreign policy priorities, if elected, would be to demand enforcement of a regional treaty to restore democracy and fundamental freedoms in Venezuela.
Zuluaga, a rightist who scored a first-round upset over the centre-right Santos, told me in an interview this week that he would call for the activation of the 34-country Organization of American States' (OAS) Democratic Charter to impose regional sanctions on Venezuela's repressive regime.
"For us, in matters of foreign policy, it is fundamental to defend the Inter-Ameri-can Democratic Charter, which establishes commitments to defend democratic values and institutions," Zuluaga said.
Pro-democracy activists have called in recent years for Latin American countries to invoke the OAS regional treaty against Venezuela, but have found virtually no support from the region's governments, in part because Venezuela is a major oil supplier to many OAS member countries.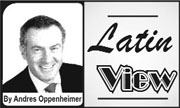 Referring specifically to Venezuela, where President Nicolás Maduro won a dubious election last year and is facing opposition protests that have left at least 42 dead in recent weeks, Zuluaga said that Colombia's top foreign policy priorities should be "combating terrorism and drug trafficking."
Zuluaga and his political mentor, former President Alvaro Uribe, oppose Santos' peace talks with Colombia's FARC guerrillas, which have become the biggest point of contention in the presidential race.
Santos is campaigning on the premise that his peace talks with the FARC are likely to end Colombia's five-decade-old armed conflict, and argues that peace would bring about an avalanche of foreign investment that could drive up the country's economic growth to 7 per cent annually. Zuluaga, in turn, says Santos is giving away the country to the FARC, and opening the doors to a Cuba- and Venezuela-inspired regime in Colombia.
In the interview, Zuluaga said that "Colombia cannot accept Venezuela's failure to confront terrorism and drug trafficking embodied by the FARC terrorists [operating] in Venezuela." He added: "The FARC is killing, kidnapping and extorting in Colombia, and then they cross the border and have the protection of the Venezuelan government."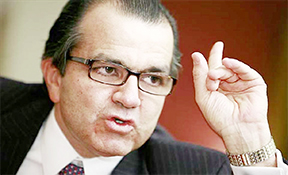 On the recent bloodshed in Venezuela, Zuluaga said it is also "the duty" of Colombia as a signatory of the Inter-American Democratic Charter to demand a collective defence of democracy and human rights in Venezuela.
"Clearly, repressing social protests in Venezuela's case has resulted in the deaths of many young people, more than 35," Zuluaga said. "That's a very serious thing that violates human rights, and which is not something that is done by a democratic regime."
Asked whether he supports US congressional proposals — the Obama administration opposes — to impose sanctions on Venezuelan officials involved in the killings of student protesters, Zuluaga evaded the question, saying he would need time to reflect on it. Again and again, he went back to his premise that the cornerstone of his foreign policy would be to "strengthen democracy and freedom in our countries."
My opinion: Zuluaga's call for the collective defence of democracy in Venezuela is welcome news in a region where presidents looked the other way at that country's scandalous electoral process last year, and where Maduro's government continues to violate basic human rights without criticism from its neighbours.
But, frankly, I doubt that Colombia would make a radical foreign policy shift if Zuluaga wins. Realistically, he would not be able to invoke the Inter-American Democratic Charter to impose sanctions against Venezuela because most OAS member countries would not go along with it. Just this week, at the OAS annual foreign ministers' meeting in Paraguay, the group expressed its opposition to the US congressional proposal for sanctions against Venezuelan officials involved in repression of the students.
In addition, while Colombia's exports to Venezuela have plummeted in recent years and Venezuela is not paying its debts to Colombian exporters, business leaders from Colombian border states would put significant pressure on Zuluaga not to endanger what is left of the two countries' bilateral trade. And Zuluaga would also have to be very careful not to give Maduro an excuse to resurrect the Colombian-Venezuelan territorial dispute over the Gulf of Venezuela as a way to unite the Venezuelan people behind him.
Perhaps Zuluaga would be freer to criticize Venezuela and other anti-democratic regimes than Santos, whose political life depends on the Cuba-hosted peace negotiations with the FARC, and who has teamed up with Colombian leftist parties for the upcoming run-off election. But, other than that, we should not expect a radical foreign policy shift.
© The Miami Herald, 2014. Distributed by Tribune Media Services.
Comments
CARACAS/HOUSTON (Reuters) – Venezuela's unraveling socialist government is increasingly turning to ally Russia for the cash and credit it needs to survive – and offering prized state-owned oil assets in return, sources familiar with the negotiations told Reuters.
By Carl Bildt CHICAGO – We are now in the final days of the industrial age.

During Men's Health Week, the man/woman in the street were asked to speak on their lifestyles and what they do to maintain their health or to encourage their significant others to lead healthy lifestyles.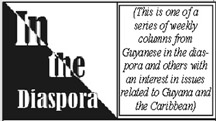 By The Caribbean Voice There are no reliable statistics on the amount of persons engaging in the use of illegal drugs or those described as addicts.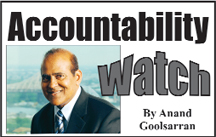 In last week's article, we referred to the two recognized methods of accounting for costs relating to the exploration, development and production of crude oil and natural gas: the "successful efforts" (SE) method and the "full cost" (FC) method.