Story and photos by Mario Joseph
Whether it's a hot sunny day or a cool afternoon, sweet ripe coconut water is always on sale at Priestman's coconut stall on the edge of Friendship, on the East Bank of Demerara. Located immediately on the public road, the Rastafarian who is formally known as Euriel Williams stands with his cutlass in hand ready to cut the coconut and drain the water for those wishing to be refreshed by nature's rejuvenator. If the customer is willing to finish their drink on the spot, they can enjoy the delight of eating the jelly, after watching Williams's masterful demonstration of chopping the coconut in neat thirds.
Williams who lives in the squatting area just down the road from his stall says all is not well for the poor living in his community. This is the Friendship Squatting Area, which he said had "no electricity, no water, no telephone and therefore no modern technology. The roads are deplorable and we have no modern facilities, no schools, no playgrounds, no health centres and no security." The farmer said he has lived in the squatting area for the past 27 years and that he plants everything including coconuts, bananas, plantains, cassavas and eddoes. He even rears livestock in the form of cattle, sheep and goats, which was sufficient, he said, to support his wife and 7 children, the oldest of whom is 27 years.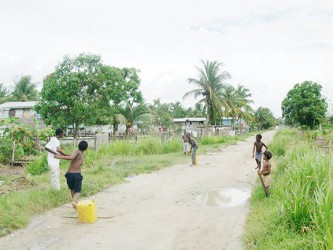 "I am trying to live life here despite the difficulties. I have a power generator and water tanks and therefore am one of the lucky ones. But in the community of about 500 people, there are those who are not so lucky. Everyone's friendly; we're a close community, we all live in peace and harmony. But there are a few rotten eggs as with every place else," Williams said. He went on to say that the community really needs to become regularized because there are so many people living there, and he called on the authorities to do right by them and give them the basic amenities.
Williams asked for proper roads in every street unlike the "substandard" access road used to enter the community, which he said was built about year ago and is already in a state of total disrepair. He also asked for a playground for the kids, with so many of their boys having to play their cricket and football in the streets with the girls resorting to "maypole" – a hair-plaiting activity. He also highlighted the need for a school, since the children have to go to neighbouring Craig for primary and secondary education.
Referring to the locale as a big farming community, Williams chided the government as being hollow in their drive to encourage more farming, with the Grow More campaign rolled out by the Ministry of Agriculture. He said that all they do is talk but lend no real support to the small-scale farmers, pointing to his need for grazing ground for his livestock. This he said is a problem facing many East Bank communities, who are caused unnecessary expense when their animals are caught wandering after they have loosed them to feed. Williams lamented that the fees to recover animals range in the thousands which the farmers cannot bear.
Though the community is primarily a farming based one, there are a several small grocery shops operated by residents, with a hotel/bar in the last street. Williams said that the residents can also go to the public road to a popular gas station for other commodities. The community boasts one Christian church which he says shines a positive light on them, since it attracts the children to a form of alternative recreation with its weekly Sunday school.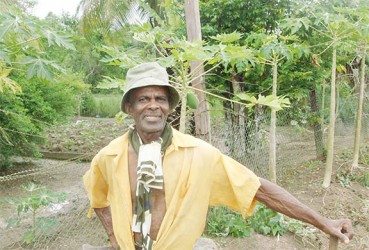 The neighbourhood is primarily occupied by African residents with the second largest group being Indians. There are also some Amerindians and a few Chinese. Happy with the general culture of the community, and with people of varying ethnicities living in harmony, Williams said that he'd be most grateful if the plight of the poor could be properly addressed and then only could everyone truly be happy.
Resident farmer and Guyana Defence Force mason, Burnell Hubbard, chronicled the history of the
community. The year 2009 yielded a positive decision to what seemed an unending saga of courtroom drama that eventually saw the residents being allowed an indefinite period to pay for the lots they occupied at a rate of $30 per square foot.
The land had once been an estate, and the original proprietors had been involved in an ownership dispute which had to be settled before the residents could fight their cause. The end result was that one owner, Joyce King was awarded the front lots from 1-107 and Elaine Adams (formerly Rahat) the remaining lots, 108-213. To date only a handful of residents have paid for their lots with about 6 or 7 being issued titles to their land.
Hubbard who called himself a truly organic farmer, explained that the crops he produces are natural in every sense. He said that he uses no genetically modified seeds, pesticides, herbicides or fertilisers, and that the crop he produces is vastly superior to that of conventional farmers whose crops rot easily and which he alleged could cause illness.
This type of farming is important, Hubbard explained, citing the relevance at a time when the government is discussing legislation to expand the use of unnatural biologically engineered foods. His farm, he said, is a great pastime that feeds his wife and 4 children and earns him some extra income. "How sweeter a deal can I get?" he asked. He farms crops such as pine, coconuts, tomatoes, bora, ochro and sweet potatoes, among others.
In describing the culture of his community, he said that he and his neighbours get along very well and that there is minimal petty crime. He said that apart from the outside elements, one can leave one's construction materials on the street without fear, and he pointed to a neighbour who was constructing her house.
Things aren't entirely blissful, however, in the Friendship squatting community. Like Williams, Hubbard pointed to the lack of infrastructure – "We don't have water, electricity, well-dug drains, nothing." He went on to say that there are no playfields for the children and even the schools are so far away, it gives rise to even more difficulties for the poorer parents.
The poverty problem he explained, was exacerbated by the lack of utilities, although he, in contrast, had an electricity generator and four water tanks to collect rainwater. Despite the problems faced by the community, 61-year-old Hubbard said that he does not regret moving into the village some 16 years ago.
Former community group Chairman Michael Allen says there is much to be upset about in the community he has called home ever since 2006 when he first moved there with his wife, a veteran Guyana Power and Light employee. The bamboo craftsman, who has travelled to Hong Kong and China for arts training and working with bamboo makes his living by travelling to neighbouring Suriname to sell his pieces, since he says there is little demand for them in Guyana. As an artist, he said, he can't stand to see anything ugly. This he said is the reason he gets into conflict with some of his neighbours who litter with impunity. He described residents dumping entire salt bags in the trenches and throwing soiled pampers in the drains. He also said that he gets upset with them for the way they are bringing up their children, who are allowed to abscond from school without punishment. However, he expressed sympathy with the poor, single parents who are the major offenders, acknowledging the great expense they are put to.
Highlighting the troubles of the community, Allen repeated what other residents said, but with a few variations. He said that crime is a real issue, and that persons from the "deh bad" places in the city come there and steal and even deal in drugs. The lack of electricity also gives rise to the temptation to steal it. However he pointed out that he, like a few others has a power generator and water tanks that spare him the suffering faced by many. In addressing the water situation, he said that pipes were laid by a private contractor after some residents pooled their money, but this did not include everyone; in fact it only involved a couple of dozen or so.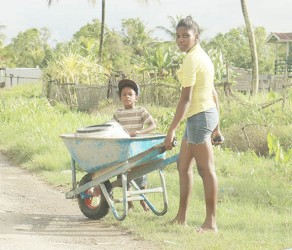 Allen said that he had a vision for the community, but that it all fell by the wayside because the residents were too indisciplined. He claimed to have made efforts to teach them how to dispose of their litter by digging holes in their yards and burning their refuse in a controlled fashion, and at the same time tried to teach them recycling techniques. He said that his dreams for the community that he loves are still alive but confessed that he cannot do it without the help of others to sensitize and enlighten the people who have now developed a grudge against him.
Sunday Stabroek spoke to several more residents who all complimented their community for the family-like lifestyle but shared the same sentiments regarding the state and condition of the roads, water and electricity.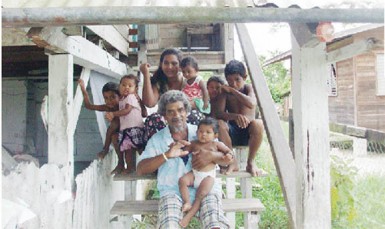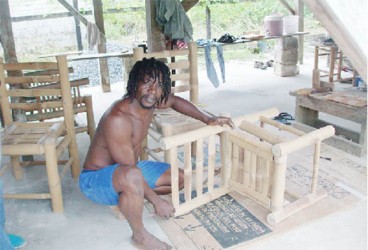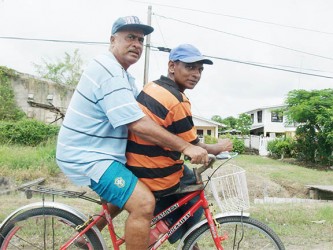 Around the Web