In the afternoon, when fruits are in season, a high pitched, raucous call announces the arrival of a flock of Red-shouldered Macaws (Diopsittaca nobilis).  The smallest of all macaws, it is almost all green, with a white face and red shoulders.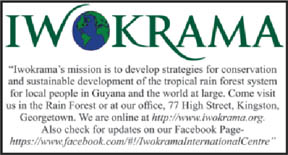 Relatively common in wetlands and lowlands of Guyana, they can be seen in the Rupununi as well as in the Botanical Gardens in Georgetown.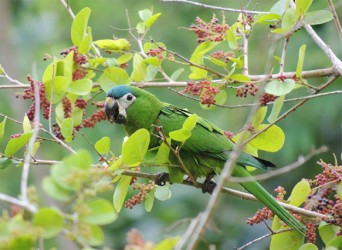 Comments
Since the festival of Christmas commands a pre-eminent position – of observance and celebration – on Guyana's Annual Calendar of National Events, I thought I'd pen a few lines to provoke thought and meditation relevant to the "Real Reason for the Season".

To mark the anniversary of Martin Carter's passing on December 13, 1997, Gemma Robinson looks at Carter's Poems of Succession, published 40 years ago this year.
By Naicelis Rozema-Elkins It is about time, past due in fact, that the problem of sexual assault by teachers in our school system is addressed.

Focus on Guyana's National Budget 2018 represents the twenty-eighth edition of this Ram & McRae annual publication which highlights, reviews and comments on the major issues surrounding and raised in the National Budget.

By Mark Leonard LONDON – Over the last few weeks, media around the world have been saturated with stories about how technology is destroying politics.