Many of the millions of us who watched the Mexico-Croatia game a few days ago asked ourselves the same questions when the umpire failed to call an obvious penalty kick for the Mexican team: are some of these World Cup matches fixed? Are the referees on the take?
That day, it didn't matter much, because Mexico won a decisive 3-1 victory over Croatia, and moved on to the next round.
But the episode — much like a penalty kick to Brazil for a nonexistent foul during the inaugural game, and several other dubious calls — raised new questions about FIFA, the world soccer governing body, and why it doesn't allow instant video replays of dubious plays, much like is routinely done in NBA basketball games.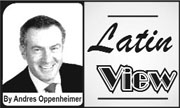 FIFA, which according to Forbes magazine will have an income of more than $4 billion this year, is a non-governmental organization based in Switzerland that is run like a secret society. Its President Joseph Blatter, 78, has been in charge of it since 1998, and has announced he will run for a new term this year despite an avalanche of allegations of widespread corruption within the organization.
Shortly before the beginning of the World Cup, the Sunday Times of London published an 11-page investigative report asserting that kickbacks were paid to influence FIFA's 2010 decision to pick Qatar over Great Britain as host of the 2022 World Cup.
The newspaper says thousands of internal e-mails and other documents show that bribes were paid to African FIFA member associations so that they would vote for Qatar. In fact, Qatar seems to be one of the worst places on earth to hold a World Cup.
Temperatures in Qatar during the summer, when the World Cup is played, can reach 120 degrees, which will make it a major health hazard for players. Qatar is also an absolute monarchy with a pitiful human rights record, and its national team has never classified to play at a World Cup.
Another British daily, The Telegraph, has reported that kickbacks were paid to get FIFA to pick Russia as the site of the 2018 World Cup. And The New York Times recently published what it said were the contents of an internal FIFA investigative report that allegedly shows that several matches prior to the 2010 World Cup in South Africa were fixed.
FIFA has called for an internal investigation into the Qatar 2022 bribery allegations, and has appointed former New York prosecutor Michael J Garcia to lead it. Garcia is expected to issue his report after the World Cup's end.
But Transparency International, a leading anti-corruption advocacy group, is sceptical that the soccer governing group will clean up its act. In a newly released report entitled, 'FIFA: Time to change,' the anti-corruption organization calls on FIFA to "tackle the corruption allegations that have dogged it for years, and specifically the decision to hold the 2022 World Cup in Qatar."
According to the report, FIFA should do at least three things: publish in full its investigations into the voting for the 2018 and 2022 World Cup host countries; set term limits for FIFA senior executives, including Blatter, and appoint external members to its Executive Committee.
The Transparency International report added that "match-fixing has become a real threat to the integrity of football," and noted that FIFA itself has warned of the possibility of match-fixing during the current World Cup in games that have no bearing on who advances in the competition.
Asked whether FIFA's internal investigation into its vote for Qatar's 2022 World Cup will be credible, Transparency International spokesman Eduardo Bohorquez told me in an interview that there is big risk that the inquiry will be limited, because it will only look backwards.
"FIFA should look into the past, but it should also launch an ambitious plan to prevent these things from happening in the future," Bohorquez said. "I'm confident that the first thing will happen, but I'm not that optimistic about the second one."
My opinion: I agree. FIFA badly needs an external oversight committee that not only looks into its dubious actions in the past, but that also sets clear rules to ensure the organization's integrity in the future. It should among other things appoint external directors, and prohibit the indefinite re-election of its presidents.
And, more immediately, FIFA should allow instant video reviews of dubious plays, starting with the next World Cup. Otherwise, many of us who are watching the most wonderful sports competition on earth will keep wondering whether there is foul play behind dubious umpire decisions, as many of us did in the Mexico-Croatia game.
© The Miami Herald, 2014. Distributed by Tribune Media Services.
Comments
CARACAS/HOUSTON (Reuters) – Venezuela's unraveling socialist government is increasingly turning to ally Russia for the cash and credit it needs to survive – and offering prized state-owned oil assets in return, sources familiar with the negotiations told Reuters.
By Carl Bildt CHICAGO – We are now in the final days of the industrial age.

During Men's Health Week, the man/woman in the street were asked to speak on their lifestyles and what they do to maintain their health or to encourage their significant others to lead healthy lifestyles.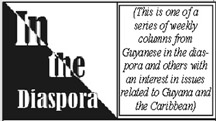 By The Caribbean Voice There are no reliable statistics on the amount of persons engaging in the use of illegal drugs or those described as addicts.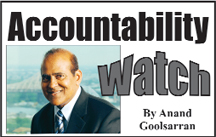 In last week's article, we referred to the two recognized methods of accounting for costs relating to the exploration, development and production of crude oil and natural gas: the "successful efforts" (SE) method and the "full cost" (FC) method.