Arguably the most important issue raised in Mr. David Granger's independence sojourn in New York was his statement of the kind of governance he would like to see developed in Guyana, and in my view, unless we want to unwittingly end up in an autocracy worse than any we have had so far, the Leader of the Opposition had better make his position much clearer and we had better pay attention to it. This is because I believe that when all is said and done, if this country is to progress, we must establish a more inclusive political framework.
We must not forget that we missed a good opportunity to establish or at least make a good political stand for more appropriate governance mechanisms during the constitutional process that took place at the turn of the last century. We did not then sufficiently appreciate that we were not living in a normal multi-racial society. Even Desmond Hoyte, then in charge of the PNC, only later come to that realization and so we proudly constructed all manner of constitutional commissions but left them in the same majoritarian mould.
Today we have to be careful that we are not on an even more utopian trajectory: focusing on even less important matters such as having the PNC give us assurances that they will not behave autocratically again! For my part, the PNC and the whole tribe of politicians can swear on the entire stack of sacred religious texts in Guyana and by all that is dear to them and I would not willingly put my life in their hands. If you value your freedom, the way to deal with this tribe is to pay no attention to their protestations of good intentions. In countries like Guyana where the political culture is undeveloped and the rule of law is fragile, the people should lock the politicians in strong institutional arrangements and always be prepared to take direct action to force compliance.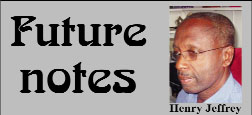 In 2002, the PNC stated that it supported shared governance and reiterated that position at its congress in 2011("Shared Governance", Congress Place, 16/10/2002). In my opinion that paper does not contain sufficient checks and balances to prevent such a government from drifting into a dictatorship. Indeed, the PNC proposal itself recognized this possibility when it stated "The interparty political debate and discussions, therefore, would no longer be conducted in the public domain but behind closed doors of the Council of Ministers. The committee recognizes that this is an undesirable eventuality ….To reduce the likelihood of the emergence of an executive dictatorship… the committee recommends the following ideas…"
In response to the PNC's call for shared governance, in 2003, the PPP published a paper calling for inclusive governance ("Towards greater inclusive governance in Guyana: Building trust to achieve genuine political co-operation", State House, 08/02/2003).
In that document the PPP/C made the normal outlandish propagandistic claims. For example "Guyana Constitution's is the most advanced in terms of inclusiveness and Opposition involvement in governance in the Caribbean region and certainly one of the most advanced in the world." But more importantly, it claimed that despite its efforts "Post-independence politics in Guyana has been characterized by a lack of trust between the two main political parties" and that the parties should focus on building trust. "In an environment created by deepening trust and confidence, further arrangements for inclusive governance can result after consultation with our constituents and the electorate."
Of course all this was pure grandstanding obfuscation. Did the PPP and the PNC trust each other when the PPP was calling for a government of national unity during the Burnham era? It is precisely the absence of trust between their constituencies that makes the case for shared governance.
From reports, the Brigadier now tells us that he "…. believe[s] in inclusionary democracy in which all parties and groups [are] involved in the decision-making process and governance so as to avoid antagonism and conflict." He does not want anyone to change their political party, social organization or ethnic identity. "He wants all of us to sit at the table and voice our concerns, to engage in dialogue, and forge consensus" and declared that by the time Guyana marks its 50th independence anniversary we should have a unity government, and that if he were to be elected president in 2016 he would form A Government of National Unity, which he would invite the PPP to join" ("Granger seeks a government of national unity:" SN: 27/05/2014).
It may well be that the PNC/APNU has changed their position but the expressions of this new all-important issue is much too vague and confusing: not only to me. Thus we are told by a supporter who welcomed Mr. Granger's position that reactions on social media "have been dominated by expressions of puzzlement and confusion, even hostility."
In spite of Mr. Granger's claim that if he wins the next election he would invite the PPP to join, Mr. Mark DaCosta offered to bring some clarity to the issue by claiming that, for Mr. Granger, "… a government of national unity does not mean a political coalition; it implies instead, that everyone would be welcome to contribute to national development, regardless of political affiliation. In other words, a national unity government would welcome the participation and contribution of any Guyanese qualified for the job, regardless of which party that citizen supports" ("Is it not time to try a different political approach?" SN: 28/05/2014).
Indeed, it is perhaps this lack of clarity and the closeness of designation between the PPP's "inclusive governance" and APNU"s "inclusive democracy" that have partly propelled the General Secretary of the PPP to accuse Mr. Granger of "parroting" views long held by the PPP. And to then proposing some trust-building measures that would have the effect of dismantling APNU's parliamentarianist strategy ("Opposition must restore trust to enable environment for shared governance", 10/06/2014).
PNC/APNU needs to make its current position clear and open the matter for public debate. This is a very important matter and we should not simply acquiesce and allow the lethal admixture of oligarchic self-interest ever present in such arrangement to take us where we have not gone before in terms of autocratic power.
The freedom of a people largely depends upon its vigilance in designing, establishing and reforming its governance mechanisms to keep the political establishment in check. However, the political context is, more or less, opportunistic and even the most well thought through arrangements may prove inadequate for this task. To meet this eventuality, a people needs to always keep its power dry!
henryjeffrey@yahoo.com
Comments
Since the festival of Christmas commands a pre-eminent position – of observance and celebration – on Guyana's Annual Calendar of National Events, I thought I'd pen a few lines to provoke thought and meditation relevant to the "Real Reason for the Season".

To mark the anniversary of Martin Carter's passing on December 13, 1997, Gemma Robinson looks at Carter's Poems of Succession, published 40 years ago this year.
By Naicelis Rozema-Elkins It is about time, past due in fact, that the problem of sexual assault by teachers in our school system is addressed.

Focus on Guyana's National Budget 2018 represents the twenty-eighth edition of this Ram & McRae annual publication which highlights, reviews and comments on the major issues surrounding and raised in the National Budget.

By Mark Leonard LONDON – Over the last few weeks, media around the world have been saturated with stories about how technology is destroying politics.