I'm admitting it from the start: I am not a fisherman. I never was. Even if I had any inclination that way, I was cured of it in Canada when Guyanese musician Andy Niccols, a fishing fanatic, took me fishing one afternoon on Rice Lake in Ontario. We were out there for four hours, hardly any other boat in sight, and in that time not only did we catch no fish, we did not get a single bite; not even a jiggle on the line. Niccols was very apologetic, giving me the usual malarky about how much fish he had caught "right here, man" the weekend before, but I didn't fall for that. I had heard from other Guyanese, accustomed to trench fishing at home, how lean the fishing scene was up there. In addition, although it was summer, I nearly froze. I was huddled up under the bow of the boat sheltering from the wind. That cured me of fishing forever. Niccols kept calling me for a repeat, but that afternoon on Rice Lake stayed with me.
People in Guyana like Patriarch Gomes, the radiator man, and Dale DeNobrega, the mechanic – those guys are fishermen. They will come back from one of their weekend jaunts with 60 lukunani and a bunch of river basha, no problem. That's not me.
Going back 60 years as well, when I was living at Vreed-en-Hoop, my friend Neville DeRamos tried to rope me into this fishing business. He was pals with the Rayman family in New Road who had a boat and they would go on day trips into the Boerasirie Conservancy, sitting behind West Demerara, to catch fish. The Conservancy is an amazing world of waterways, pools, pegasse, and some shrubbery, covering what looks like millions of acres. It's a nature paradise out there, and to this country boy from West Dem it was a completely different world. I don't know how it is these days, with fertilizer runoff and what not, but back then it was literally teeming with fish. There was so much fish in that place that in the narrow waterways a passing boat would cause small fish to jump clear out of the water, several feet in the air; often, fish would actually land right in the boat.   At low-water periods, the wake from passing boats would pitch small fish up on the dry bushy pegasse which would prevent them getting back to the water; you would see the skeletons on the pegasse as you went by. I went on these trips a few times mesmerized at this horde of fish, but still not looking to join in the fishing.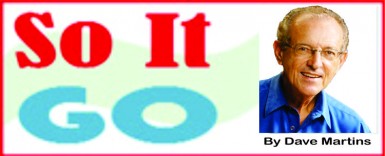 Arriving at the fishing grounds, a couple of guys would be put ashore where the pegasse was firm to throw cast nets. In times when the water was low, virtually every throw would bring in five or six small fish (patwa; houri; sunfish) sometimes without even having to move from one spot. While this was going on, the boat would go back out on the open water areas to troll for lukunani which were plentiful. It was exciting to see a lukunani snap that spoon bait and come leaping in the air, colours flashing in the sunlight, diving back in the water, and leaping high again, and there again the take was plentiful. In a day of fishing the Conservancy, you would catch literally hundreds of fish. I remember two fishing trips where we came back to the landing in Plantain Walk with close to half of a rice bag of small fish, most of which we gave away. Nearby residents would be waiting at the landing, each of them carting away 10-15 patwa, houri or sunfish. The lukunani, of course, were a different matter; those belonged to the boys.
In the Conservancy, you were in a wilderness. There was no sign of mankind anywhere, except for the occasional boat, and the tangled maze of waterways, twisting and curving aimlessly, required a guide who knew his way. Also, because of the remoteness, a critical part of any fishing trip was a man who knew his way around outboard engines; to be stalled out there, miles from anywhere, could be perilous. The other concern in this environment was obstructions in the water – tacoubas, for example – clearly seen when waters were low but a danger otherwise. Some of these were floating dead trees, but others were actually stumps of trees standing where they had died. We were not fishermen who knew the area; we had to be careful.
Part of the story is an incident on one fishing trip where somebody in the Rayman crew got careless early in the outing, and the wooden boat with its six passengers, three of them ladies, going at a good clip, ran straight into a semi-submerged tacouba. In an instant, the black stump smashed a breadfruit-sized hole in the bottom of the boat; it was dead in the water, some 20 feet from shore, and water was pouring in.
In a panic, men and women pulled off their clothes to staunch the flow; in the case of the ladies, even down to underwear. The men were overboard, trying to push the boat to shore, while the ladies in the boat, two of them virtually naked, were trying to hold back the water. Luck was on their side: the boat was light, and not far from shore, they were able to make it to the pegasse, and within the hour a passing fishing boat rescued them from their plight. They had come through a very perilous situation.
Pertinent to the story is that I was not part of the panic, as this had been a couples-only jaunt and I, with no girl-friend at time, did not go on the trip. But the encounter had been a close shave, and even Neville, relating it to me, had been clearly shaken by it. That sealed it. The Conservancy was a stirring part of nature, but I really wasn't interested to tempt fate as they had done in order to catch fish. So if Mr Gomes and Mr DeNobrega are reading this and planning to invite me on their next weekend venture, chaps, don't bother. I am not a fisherman.
Comments
CARACAS/HOUSTON (Reuters) – Venezuela's unraveling socialist government is increasingly turning to ally Russia for the cash and credit it needs to survive – and offering prized state-owned oil assets in return, sources familiar with the negotiations told Reuters.
By Carl Bildt CHICAGO – We are now in the final days of the industrial age.

During Men's Health Week, the man/woman in the street were asked to speak on their lifestyles and what they do to maintain their health or to encourage their significant others to lead healthy lifestyles.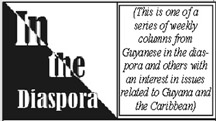 By The Caribbean Voice There are no reliable statistics on the amount of persons engaging in the use of illegal drugs or those described as addicts.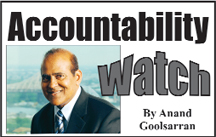 In last week's article, we referred to the two recognized methods of accounting for costs relating to the exploration, development and production of crude oil and natural gas: the "successful efforts" (SE) method and the "full cost" (FC) method.