One of the many good things about baked chicken is that you can mix and match flavours or you can use one type of seasoning – herbs, spices, dried seasoning mixes or sauces – to create a different flavour each time you make the dish.
As you can probably tell from last week's recipe – Umami Pork – I tend to stock my pantry with various seasoning sauces. While many of these seasoning sauces are associated with a particular cuisine, their use is not restricted to that specific cuisine or dish. The fun and creativity in food and cooking comes when we step beyond such confined boundaries.
Oyster sauce brings a particularly delicious flavour to chicken and to rice dishes too. For this recipe I used a regular all-purpose seasoning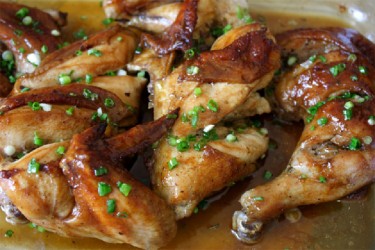 mix and then generously rubbed the chicken with Oyster sauce. The wet marinade meant that the chicken when baked would create its own sauce. I finished it off with a handful of thinly sliced scallions/green onions, which added a delicate oniony-herby flavour to the chicken. Eaten with plain rice, cucumbers and stir-fry cabbage, this was a winner!
You do not need to marinate this for a long time so it is definitely doable for a weekday meal.
INGREDIENTS
2 large whole chicken breasts (wings on)
2 large leg quarters
All purpose seasoning
Hot pepper sauce to taste
½ cup oyster sauce or more to taste
Salt (optional – see notes below)
4 – 5 whole green onions/scallions, thinly sliced – white/purple and green parts
DIRECTIONS
Preheat oven to 350 degrees F.
Wash and pat dry the chicken. Make cuts across the breasts, along the drumstick and thighs (this is so that the sauce can penetrate and season the meat).
Add the chicken to a large baking dish (about 9 x 13). Season with all-purpose seasoning, pepper sauce and oyster sauce; toss to ensure all over the meat is coated in the seasonings, including between the cuts.
Transfer to the oven and cook for 50 minutes-1 hour or until the meat is cooked through. Remove from the oven, sprinkle with green onions/scallions and baste the chicken with its own cooked sauce. Let rest for 15 minutes then serve.
NOTES
If you can't get breasts with the wings, no problem, just use the whole chicken breasts – keep the skin on so that the breast meat does not dry out.
You can opt to cut the chicken into smaller pieces instead of leaving them whole and large.
Check the seasoning you are using to ascertain if it already has in salt, if it does, you may not need to add more salt or as much salt, as the Oyster sauce has in salt. Taste and adjust to suit.
While this chicken is seasoned and cooked right away, feel free to season and let it marinate for as long as you like – 24 hours maximum.
Around the Web