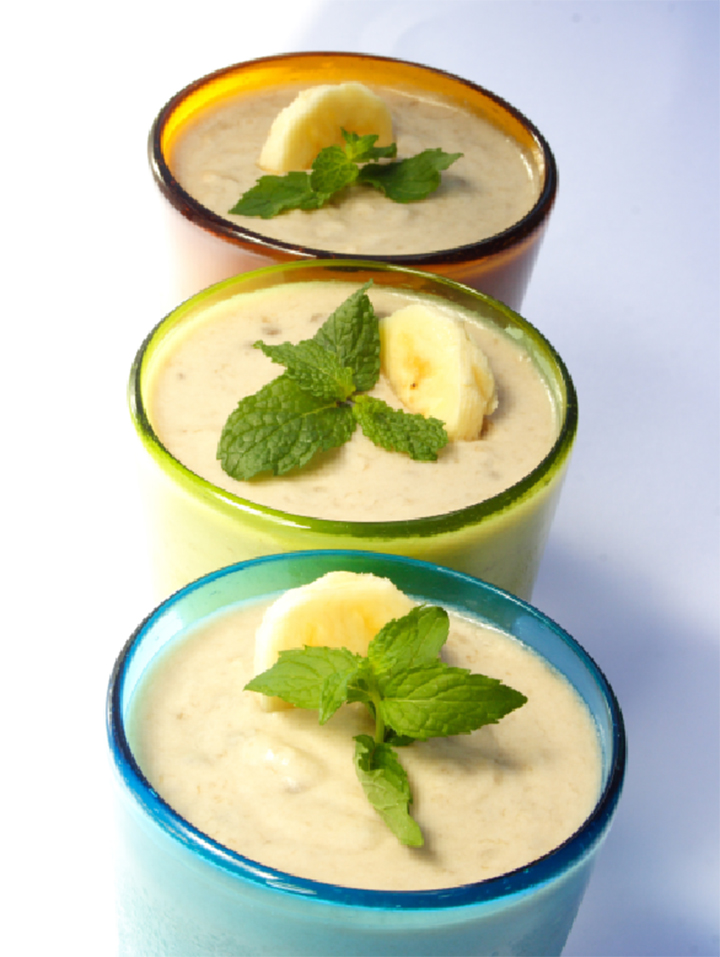 By now, most of us have had our fill of cake and will be getting ready to toast 2014, wondering where it went… simultaneously, we will welcome 2015, full of hope for betterment in all aspects of our lives and indeed for the world.
To end your holiday meal, let's lighten the palette from the spices with some bananas made creamy, by turning them into a mousse.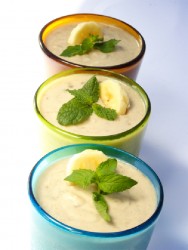 For drinks, vodka is the liquor of choice. Certain herbs pair well with beverages – alcoholic and non-alcoholic – thyme, rosemary and mint immediately come to mind. Make the thyme syrup a day or 2 ahead so that you are properly prepped for your Old Year's Night lime.
The second drink, I used freshly squeezed pomegranate juice. The orange juice is freshly squeezed too but store-bought can also work. All the juices and syrups can be made ahead of time and refrigerated. Add all the quantities to suit your taste.
Banana Mousse
SPECIAL EQUIPMENT
Jug blender
Whisk
Spatula
4 x 8 oz. glasses or goblets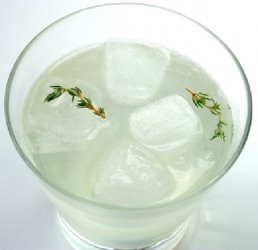 INGREDIENTS
½ pound of peeled ripe bananas
1 tablespoon fresh lemon juice/ ¾ tablespoon fresh lime juice
¼ cup orange juice
½ cup white granulated sugar
2 tablespoons banana liqueur/Cointreau (sub with dark rum)
1 tablespoon tap water
1 tablespoon gelatin or 2 gelatin leaves, soaked for 10 mins and then squeezed dry
1 +1/3 cups heavy cream
For garnish:
Sliced bananas
Mint leaves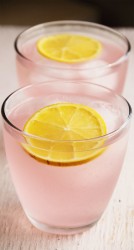 DIRECTIONS
Cut bananas into pieces and puree in a blender with the lemon/lime juice, orange juice and sugar. Transfer to a bowl and set aside.
Add the water and liqueur/rum to a saucepan and warm to 115 – 120 degrees F. Remove from heat and stir in gelatin or gelatin leaves until dissolved. When dissolved, pour and mix into the pureed fruit.
Whisk cream in a separate bowl until it thickens but not to the stage of whipped cream. Fold the thickened cream into the puree; spoon the mousse into individual glasses or goblets and refrigerate until set (4 – 6 hours).
Serve garnished with mint leaves and sliced bananas (optional).
NOTES
Please note the weight of the banana should be measured after the removal of the skin.
The heavy cream can be replaced with thick, plain yogurt; however, you may need to add more sugar to balance the tartness of the yogurt.
Another option for setting the mousse, is as follows: cut up extra bananas and layer some slices at the bottom of the glass, add some mouse and keep alternating with sliced bananas and mousse finishing with mousse at the top. Put in the refrigerator to set. Serve cold.
Thyme, Lime & Vodka Cocktail
INGREDIENTS
For syrup:
4 sprigs Guyanese thyme, leaves removed
2 cups white sugar
2 cups tap water
For cocktail:
Thyme simple syrup
Fresh lemon or lime juice
Water
Vodka (plain or lime/lemon or citrus flavour)
Ice cubes
DIRECTIONS
For syrup:
Add the thyme leaves, sugar and water to a saucepot and place over medium heat. Stir until the sugar dissolves and then let the pot come to a boil. When it comes to a boil, reduce the heat to low and let simmer for 4 minutes.
Remove the pot from the heat and let cool completely. Pour into a clean bottle and refrigerate (you can strain the syrup to remove the thyme but I leave it in to keep infusing the syrup and strain only when I am making the cocktail).
For cocktail:
Add lime juice and water to a large pitcher and sweeten with the thyme simple syrup to taste.
Pour in vodka to taste and stir to mix.
To serve, add a couple of ice cubes to a glass and pour drink over ice.
NOTES
Make the drink to suit your taste with regards to tartness, sweetness and alcohol content.
Another way to mix the drink is to mix the vodka and syrup in a shaker first, add ice and soda water to a glass and then pour in the vodka-syrup mixture. Serve with a drink stir stick.
Orange Pomegranate Cocktail
INGREDIENTS
1 glass (8 oz.) freshly squeezed orange juice
2 tablespoons pomegranate juice
Simple syrup to taste
Vodka (Pomegranate flavour or plain), to taste
Ice cubes
Orange wedge or Pomegranate seeds for garnish (optional)
DIRECTIONS
Add orange and pomegranate juice to a small jug and sweeten with simple syrup to taste.
Add vodka to sweetened juices and stir.
Pour into 2-chilled glasses with ice. Garnish with orange wedges or pomegranate seeds.
NOTES
Substitute with cranberry juice if you do not have pomegranate.
Use the thyme simple syrup for double-duty with this cocktail.
If you have pomegranate syrup, use it in place of the simple syrup.
Around the Web