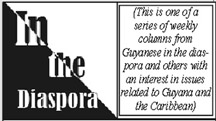 By Harold A. Drayton
Harold Drayton served as the First Deputy Vice-Chancellor (1963-1964) at the University of Guyana, and as Professor and Head of the Department of Biology. He now lives in the United States.
In 1963 Richard (Dick) Hart and his family travelled from Jamaica to Guyana, where he took up a position as Editor of the PPP's Mirror Newspaper. Over the next eighteen months we saw a lot of Dick and his family. On many a Sunday we traveled up the Creek – just off the Demerara River- to Santa Mission, where an Amerindian community lived. For Dick, those outings and the community members he met, stimulated an interest that had been first kindled in his native Jamaica, in ethnohistory and linguistics of the first inhabitants of Caribbean countries. During the short time that Dick was in BG, he made many visits to Amerindian communities in the interior, took photographs, made tape recordings of Arawak songs, and gave a lecture on the local radio on aspects of life among the Arawaks in BG. And when he and his family took up residence in the UK in 1965, he initiated a remarkable correspondence over very nearly 20 years with the Rev. John Bennett, the first Arawak priest to be ordained a Minister of the Anglican Church. All the letters exchanged between them were published in 1991, in a book Kabethechino ('Close Friends'), edited by Janette Forte of the University of Guyana. Janette remarked in her Introduction, that Rev. Bennett had acknowledged that Dick's long correspondence with him had been "central to the inspiration and execution" of the Arawak Dictionary Project. The Dictionary was eventually published in 1989 in Archaeology and Anthropology,the Journal of the Walter Roth Museum in Guyana, with a dedication by Rev. Bennett: "To Richard Hart, the friend I never met."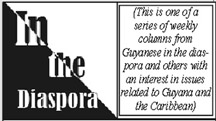 It had been  so very good to have my old mentor, friend, and comrade, close by me in BG, both of us working at our respective posts, in a situation which though difficult and troubled, was still very hopeful at least with regard to achievement of political Independence. As allies in a common struggle, we quite naturally exchanged many confidences, freely admitted and explained our satisfaction at some day to day happenings, and our fears, doubts and disappointments about others. Dick's major concerns at the New Guiana Company, where the Mirror was produced, went far beyond those usually associated with 'Editors'. He made it part of his daily routine to discuss with those  workers who were directly concerned with printing the paper, what technical improvements could possibly be introduced, given the constraints of the old machinery, to improve the legibility of their product. Dick  was also interested in the possible adaptation of the relatively new Polaroid technology – which Doug Vincent had demonstrated to him—to the newspaper business.  Dick saw clearly that all such  technical concerns were inextricably linked with achievement of a community of interest  among all the Company's workers. For that reason he suggested organisation of a PPP 'workplace branch' at New Guiana: a recommendation which was approved and implemented by the General Secretary . As with  many small periodicals there was an unavoidable tension between space reserved for editorial matters and that needed to meet advertising requrements, but Dick was never in any doubt, that in a Political Party newspaper like The Mirror, especially during that period of national crisis, a substantial editorial space allocation should be primary.
In December 1964, the modality of PR and application of U.S. 'rigging technology', ensured 'defeat' of the PPP, and subsequent installation of  a PNC-UF coalition. The time had come for Dick and his family to leave BG, and after somewhat protracted negotiations, in 1965 they travelled to the U.K., where for the next seventeen years he served as solicitor to the Surrey County Council.
We corresponded frequently, but it was not until 1969, when I became eligible for a sabbatical from the University of Guyana, that Kathleen, I and our young children could travel to the UK, and stay with  Dick and Avis. Being with him opened the floodgates, and we explained how for a whole variety of reasons, we had concentrated more and more on our professional work: Kathleen in the Education faculty; and me, in the development and implementation of  relevant curricula in the biological and health sciences. Dick quite understood the complexity of the situation, especially since '66 Guyana was then independent: I should stay on for as long as possible, but survival may well demand an exit strategy. In exchange, Dick regaled us with hilarious stories about the multiplicity of 'splits' within the Left Movement in the UK. Fortunately, he had observed  that West Indians paid little attention to these diverse left organisations, and concentrated their attention on their problems as immigrants to the UK, and news they got about politics at home in the Caribbean. He and a few friends had started discussing the organisational forms that might be more relevant to such concerns. We were lucky on our return stopover in September 1970, to meet our old friend and comrade- Jocelyn Hubbard, who I had known since 1946, when he had lectured on "Communism" to our Queen's College Literary and Debating Society. We spent one whole Sunday discussing inner-party struggle and democracy, with special reference to our Caribbean. Dick emphasised the importance of promoting self-criticism , as well as criticism of each other (including the Leader), providing always that no one exceeds that quality and level that would allow for continuity of personal inter-relationships. The other problem we discussed, was the unavoidable qualitative difference between responsibilities of a Party leader, who is not also Leader of a Government, and one who is.
After 1972, we moved to Barbados to enable me to take up my new job with PAHO/WHO; and for the next seventeen years I could afford to travel much more frequently to the UK and to visit with Dick and his family. Always they gave me a ready welcome, and always, I could learn of new initiatives. Interestingly, two of them were  in the same year- 1974- in which I had heard from Dick about discusssions among a group of  persons interested in the development of Caribbean Studies in the U.K. At the University of York in 1976, a Society for Caribbean Studies was established: to promote contact among all persons with an interest in the region and its many diasporas, and to encourage research  and teaching/learning about the Caribbean.  Dick Hart was involved in much of the preparatory work, but in his typical fashion never chose to project his image. At the Society's Annual Conference in 1989, however, Dick was one of only two scholars made Honorary Members "in recognition of their great services to the Society for Caribbean Studies".
The other initiative stemmed directly from Dick's lifelong interest in the organizational power of Trade Unions, dating back to his stint from 1942 to 1948 as President of the Jamaica Government Railway Employees' Union. In 1974, Trade Unionists in Jamaica had appealed to activists from the Caribbean community, and the wider labour and trade union movement in the United Kingdom, to mobilise protests against the Labour Relations and Industrial Disputes Bill that attempted to restrict Jamaican trade unionists' right to strike. The Jamaica Trade Union Solidarity Campaign (JTUSC) was formed in response, but after the Bill became law, JTUSC members in North London decided that there was need for a permanent organization— Caribbean Labour Solidarity (CLS) The key founding members of CLS were Dick Hart (who served as President until his recent demise), Guyanese activist, the late Lionel Jeffrey, and a former Jamaican trade unionist, the late Cleston Taylor.  CLS objectives are: to inform all those who are concerned about labour issues in the Caribbean region as a whole; and to continue to support the national and anti-imperialist fight in the West Indies. CLS takes as its central concern the need for increased cohesion between the British labour movement and all components of the anti-imperialist and national democratic struggles in the Caribbean. In its day-to-day work CLS directs attention to the links between modern-day racism, and Britain's historical involvement in the enslavement of Africans in the old sugar colonies.
Purely by chance, on my 1982 visit to Dick and Avis, I was happy to meet our mutual friend Miles Fitzpatrick who was just about to return to  his Law firm in Guyana, after serving for a couple of years as Legal Advisor/Attorney General to the People's Revolutionary Government (PRG) of Grenada. Miles had brought Dick greetings from Prime Minister Maurice Bishop, and an invitation for him to serve as Legal Advisor as soon as possible.
It was an offer which Dick would accept, after giving three months' notice to the Surrey County Council.  In his pamphlet The Grenada Revolution, Dick "sets the record straight", especially in relation to the many blatant falsehoods he exposes in  Paul Scoon's book on the "evils" of the Revolution.
Here I would only wish to record Dick's early description of those 1979 events in Grenada as "the improbable revolution"; and the story which he told with a loud guffaw at the end, of how on one practice semi-military road march, he forgot his "password" when asked for it by an Officer. His name  was met with a loud 'No, that's not valid'. Why he was eventually allowed to pass, the chronicler does not relate!
Dick and Avis returned from Grenada via our home in Barbados, after escaping recognition by the 'watchful' US Army in 1983, and over the next three decades spent most of his abundant energy researching at the Public Record Office, lecturing, and writing a score and more of books, most of them dealing with Caribbean History broadly defined. His two volume The Slaves who abolished Slavery had been first published by the UWI Press in 1978. His last two books were published in 2012, and in May of this very year.
For over half a Century after our very first meeting, our paths have crisscrossed over the many countries of the Caribbean, and the length and breadth of the U.K. And over all those many years, I have always felt especially privileged to have had Richard Hart as my friend, my Comrade, my Mentor, and my Inspiration!! Best of all, it has been the warmth of Dick's personality and his sunny disposition, his sense of fun and good humour, that have always beckoned me.
And what I always loved and will always cherish in memory, is his almost childlike curiosity about humankind and the earth which we inhabit. Quite early on in our friendship, I came to recognize Dick as a model of integrity and steadfastness of purpose.
Dear Dick will of course be sorely missed primarily by his loving and devoted wife Avis, and his dear children Gordon and Robin; Siu-Ming and Andrew, and to them we extend heartfelt condolences. But he will certainly be missed also, by me and by the many thousands whose lives he has touched; and his historical writing will for sure be often cited for generations to come.
Around the Web