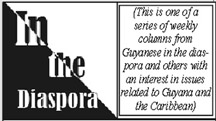 Born in Port Mourant, Guyana and living in the US since 1985, Dr. Lisa Outar has a B.A. from Princeton University and an M.A. and a Ph.D. in English from the University of Chicago. She is currently an Independent Scholar based in New York City. Her research and publications focus on Caribbean literature and in particular on discourses about Indianness in the Caribbean and its diasporas. She can be reached at leoutar@ gmail.com
By Lisa Outar
In Maharani's Misery: Narratives of a Passage from India to the Caribbean, which examines events around the rape and death of an indentured Indian woman aboard a ship to the Caribbean, Verene Shepherd calls attention to two conflicting trajectories in the study of the experiences of Indian women during indentureship. In one, we get the presentation of Indian women's experiences as overwhelmingly that of hardship and exploitation and, in the other, we find the argument that emigration significantly benefited those who left India. Gaiutra Bahadur's impressive first book, Coolie Woman: The Odyssey of Indenture, boldly inserts itself into this debate, offering us a complex, nuanced and illuminating account of Indian women's experiences and choices during indentureship and in its aftermath (in which we still live.) As evidenced by her use of the striking image of a "magician's box of emigration" which both sets one free and cuts in half, she refuses facile and reductive interpretations of the journeys that Indian women undertook and paints instead a vivid picture of women living on the razor's edge of gendered inequality, violence and stereotype, while constantly attempting to negotiate better conditions for themselves.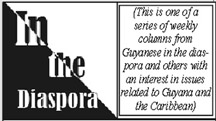 Contrary to a historical approach that simply accepts colonialist records at face value for what they say about Indian women's lives and morality, Bahadur carefully interrogates the copious archival records she mines and highlights their assumptions, their elisions, their silences and their intentional suppression and discrediting of Indian women's voices. In her thoughtful excavations of documents like the diaries of English civil servants traveling in India in the 1880s, in her identification of the few records that captured the words of the women themselves, and in the rhetorical questions she poses and answers in an attempt to fill in the silences and misrecognitions, the book indeed breaks new ground in the study of Indian women during the period of indentureship and elucidates the history that undergirds much of the gendered violence we see reported in these pages. A prime example of Bahadur's subversive methodology comes not just in how she reads the archives – the dusty spaces in England, Guyana and India where items like ships logs, indentureship contracts, emigration passes, correspondence and reports are gathered – but also in how she reads photographs like one taken in 1876 of those who lived and worked in Enmore Plantation's Great House. While such a photograph might seem to be a straightforward transmitter of historical truth, Bahadur carefully deconstructs this image and others she uses for the book, laying bare the questions they raise and the sometimes contradictory narratives they were actively constructing.
Bahadur treats the silences she finds in the history she is exploring with great care. In her attempts to locate Indian women's voices within a situation where, as she argues, the vast majority were not literate in English or in an Indian language, and thus did not leave behind diaries or letters and where "it almost feels like these elusive figures are peeking through the pages, from behind a curtain separating the women's quarters from the rest of the house of official history," she is sure to attend to the possibility of Indian women's purposeful silence. She asks, "could it also reflect a strategy by women who had secrets to keep? Is it possible that, on some level, each individual silence was a plan"? In posing her "impertinent questions," Bahadur thus sets up a living dialogue with the past, one respectful of the agency and will of these female ancestors.
While constituting an account of female resilience and fortitude, this dialogue with the past offers no easy celebration of Indian familial ties. Her research asserts that most Indian women came to the Caribbean on their own and highlights the predominance of those who were rejected by Indian family networks, those who found themselves at its fringes and were forced into choices formerly deemed unthinkable. Like Ramabai Espinet in her novel, The Swinging Bridge, Bahadur excavates the forgotten history of widows in the story who were the original Indo-Caribbean women and does not shy from considering the messy intersections of caste positioning, religious belief and sexuality that brought widows and other unattached women into indentureship. As she writes, "Sometimes, family members took widows to pilgrimage sites and abandoned them there. At other times, widows found their own way there, as they fled mistreatment and sexual advances in their in-laws' homes. A complex mix of victimization and Vaishnavite devotion brought them – and other ostracized women – to holy sites where recruiters for indenture often found them." In such passages, and in her argument that "there was also a massive overlap between the categories of women targeted for indenture and those driven or attracted to sex work in India," Bahadur thus raises issues that may discomfort those for whom narratives of Indian womanhood are tightly constrained within the bounds of marriage, family and demure femininity.
Bahadur helps us to understand the radical choices made for sexual partnership under the conditions of indentureship, arguing: "Coolie women weren't exactly like Jane Austen heroines, practicing love as a form of social mobility; but they seem to have used their scarcity to survive as best they could in an exploitative environment." Yet Bahadur is also clear in her challenge to the accusations in the historical record of Indian women being loose and promiscuous and points instead to the effects of radical gender imbalance among migrants.
The book helps us to grasp the dual patriarchies that Indian women had to negotiate – one coming from Indian men and the other from the colonial structure. As she argues, "They had all wanted to shape their own lives in ways that preserved their dignity, but their strivings played out against the backdrop of plantation societies. In this coercive setting, however much coolie women were in demand, they faced obstacles in getting what they wanted. Their own men got in their way, but so did the white men in charge, who made decisions and enforced laws that curbed their freedom as laborers and as women."
We must also recognize the important role of this book not simply as an excavator of the past but also as a tool for understanding the present conditions that Indo-Guyanese women inhabit.
Bahadur's last chapter on Guyanese women who die or suffer various forms of violence at the hands of their partners notes the ways in which the press resurrects indenture-era stereotypes and narratives to talk about the violence. In one particularly striking aspect of the book that it would behoove our policy makers to pay attention to, she notes that in some ways we are more lax about this issue now than in the colonial era.
Also noteworthy are Bahadur's thoughtful meditations on the experiences of Indo-Caribbeans in the diaspora. Part of the beauty of this book is that we are invited into the author's intensely reflective consciousness and so receive fresh insights about the complexities of inhabiting Indo-Caribbean identity in the spaces of New Jersey, New York, back in Guyana and indeed in India itself where she travels as a young woman alone much as her great-grandmother did.
More important and rare though is that, in that powerful last chapter which traces the domestic violence that follows Indo-Caribbean women into spaces like Canada, the United States and Great Britain, she is thoughtful and brutally honest about the effects of migration on those left behind, making the somber realization that "through brain drain and even remittances, relied upon while resented, our emigration has made things worse for those who didn't leave."
Finally, it must be said that this is no simple ethnocentric account but one relevant to all Guyanese. Bahadur provides compelling accounts of the linkages between Indian and African histories as well as that of the other peoples who made up part of the Guyanese landscape in which Indian women found themselves. She fleshes out not only our understanding of the lives of Indian women and men, but also that of the overseers, the slaves, the freed men and women, the plantation owners, the British officials, and the many other players in Guyana's colonial history.
Her chapter on the Scottish in Guyana plumbs a history few have explored but one that quietly marks the lives of many Guyanese (my own included as my maternal family bears the surname Ross.) Bahadur illuminates the histories of those who left the Highlands to escape famine and social upheaval and shows the ways in which clan loyalties and organization continued to play out in the recruitment of workers and assignment of roles within the plantation system. In this exploration of the backgrounds and motivations of those who interacted with Indians on the plantations and in her chapter that looks concretely at what repatriation to India was like for those who chose that path, Bahadur probes seldom-explored areas in Indo-Caribbean studies.
One last word on Bahadur's choice of name for the book. While I take seriously the feelings of those who cringe at hearing the word "coolie," who have lived under the weight of it in their lives, who have felt its accusatory lash, Bahadur is quite clear in the book as to why she chooses to use the term. She is interested (as we should be too) in the ways in which the category of the coolie was constructed out of the diverse groupings of peoples who were absorbed into the system of indentureship.
Speaking of her great-grandmother Sujaria, she argues, "The power of her colonizers to name and misname [my great-grandmother] formed a key part of her story. To them, she was a coolie woman, a stock character possessing stereotyped qualities, which shaped who she was by limiting who she could ever be.
The word coolie, in keeping with one of its original meanings, carries this baggage of colonialism on its back. It bears the burdens of history." It is these burdens of history that Bahadur unpacks for us in a gripping, careful, scholarly and at the same time poetic and passionate narrative. To discount the book on the basis of the use of this term which has been reclaimed and theorized in important ways by other Indian intellectuals like Rajkumari Singh, Khal Torabully and David Dabydeen is to waste an extraordinary opportunity to learn so much about the past that continues to inform our present and futures.
Coolie Woman: The Odyssey of Indenture, has been shortlisted for the Orwell Prize, a British literary award for political writing.
Around the Web