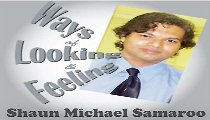 Our idea of what makes a developed society informs us how to build this nation.
We think development is about material possessions, macro-economic gains and fiscal management. Although the national budget gives lots of focus to healthcare and education, we lack the zeal as a nation for developing our latent human resource potential.
And in that mentality, we lose that crucial aspect of the developed society: human development.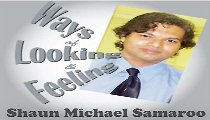 We see this play out in the state of our society, suffering a massive brain drain, with our skilled people leaving year after year in droves.
Developed societies demand our skilled people, and they leave, because that's where they see their human development happening, instead of here in the homeland.
How we see ourselves shapes how we come together to develop the Guyanese nation. We go away, building our lives elsewhere, leaving the management and development of this nation in the hands of leaders who neglect our human development, our latent human resource quality. In seeking to build a developed society, we must understand that people come first.
In education, we spend billions of dollars on buildings, and neglect the literacy of our children. We build sparkling hospitals, but suffer our people with poor, substandard medical treatment.
The United Nations ranks Guyana 118 in its annual 2013 Human Development Index, the population benefiting from an average mere eight and a half years of schooling.
Under the indices of 'Innovation and Technology' and 'Sustainability', the UN doesn't even rank us.
Guyana falls into the lowest category of societies that suffer from low human development, in the world.
Yet, Dr Cheddi Jagan drafted a global document in 1995 advocating for a New Global Human Order. He cared for human development, but we don't see it in our nation. Former President Bharrat Jagdeo campaigns around the world for sustainable environmental development.
And at home we cannot implement these visions in a real, dynamic way that impacts the citizen.
The Internet cable from Brazil to make us a Wifi nation suffers endless delays, now running into two years. Norway's promise to contribute to our forestry sustainability ran into all sorts of challenges.
In all these visions we suffer from a lack of human development. We collapse under gross state-private sector corruption, poor project implementation, and lack of skilled human resource.
Unless we see our development as people first, we would continue to fail as a nation.
Our citizens' well-being and human development must become our paramount focus. It would be inspiring to see Parliament set up an inclusive, all-party, and even national Commission, of some sort, with the sole task of ensuring human development becomes the foundation of our development strategy.
What does human development mean?
It means care and concern for every Guyanese citizen. We must see the human potential inherent in every soul. The young man or woman in Albouystown, attending West Ruimveldt Secondary School, must be as important as the elite student of Queen's College.
We hear a lot of rhetoric around these ideas. But we suffer from our inability to make these visions real for our nation.
Any nation who had the kind of visionary leadership we were blessed with would have been so far ahead in its human development.
In Forbes Burnham, we saw a visionary who catapulted this young nation as a world player, and we once sat on the Security Council of the United Nations, and played crucial roles in the formation of CARICOM and the Non-Aligned Movement, and in the Commonwealth.
Burnham may turn out to be the quintessential Guyanese in our history, with a strong vision for the nation, in his Cooperative Republic idea, in his dream of a nation of tolerance and inclusiveness, and in his drive for economic self-sufficiency.
In Dr Cheddi Jagan we saw a world leader of exceptional humanity, caring for human development more than any global leader of his generation.
Even in the controversial Bharrat Jagdeo, we see a commitment to the global environmental agenda, with Guyana, covered in 80 percent virgin forest, potentially a leader in that arena.
In Desmond Hoyte we saw a leader who gave us the Guyana Prize for Literature; Iwokrama, that global bio-research jewel; and free and fair elections after 28 years of a cold war in our nation.
We've harboured great souls in our midst, albeit very misunderstood in their time. In Sir Shridath Ramphal, Mohamed Shahabuddeen, Shiv Chanderpaul, Clive Lloyd, Carl Hooper, Eddy Grant, Dave Martins, and so many others.
Our land is blessed with rich raw material, fertile farmlands, lush rivers, lack of natural disasters.
So what's wrong?
We refuse to focus on what matters: our human development, our people, each and every Guyanese person. Street by street, village by village, we can care for ourselves. A small population like ours, with less than a million souls, cannot be so hard to govern, that we suffer as a least developed society, in the 21st century, nearly 50 years after formation as a nation. Something is wrong. And what's wrong is that we neglect our human development.
This lack of human development plays out in our public spaces, with crass cussing the norm on our streets and markets. Our young people see little hope in a future Guyana. Suicide, petty crime and illiteracy abound across the land.
Unless we wake up and re-define how we see this idea of what constitutes a developed society, we would not be able to develop our society.
We must first focus on developing our people, each and every Guyanese. And it starts with literacy, the basic tenet of language: the ability to think, understand, compose, express ourselves with refined eloquence.
The major difference between us and the developed world is this idea of human development. We must aspire for our citizens to be able to use language, that beacon of civilization, the way developed societies train their citizens to converse, dialogue and talk to each other. When each Guyanese is thus trained, we would harbour a developed society, and play our rightful role in the global village.
Around the Web