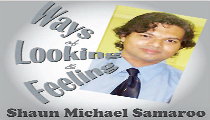 We must solve two challenges facing us as we work to develop our nation. These challenges form the fundamental foundation of our well-being.
It is tempting to throw one's hands in the air in frustration, to surrender and give up to the sickening mediocrity of our society. But we must believe, and press on, and constantly generate solutions.
We cannot allow the crucial challenges we face to fade from our thoughts, because we see inaction or no solution.
We must pressure the bureaucracy, inefficient State officials and myopic leaders to generate and create solutions, rather than allow us to settle into a nasty perpetual rut.
The elite exists in a vacuum, a socio-economic bubble, existing off the street in secured buildings, removed from the day to day drudgery of the average citizen.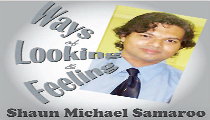 So we've got to keep pressuring the powers that be to see what's going on in our lives. After all, democracy is bottom up governance. This is why we must cultivate professional, independent media workers. Our society's voice lies with Journalists and Reporters who live by the integrity of the Journalism profession.
While media workers do not become advocates, or campaigners for a cause, or engaged in biased emotional rants and raves, the media serve as the voice of the body politic in our democracy. And that voice must be independent, unbiased to any one side of the several divides, and professional in its integrity and intention. The media, in fact, in offering a voice to the voiceless, act as a source for social justice.
With such a national voice cultivated, we must confront the challenges that face us, and keep the power elite on its toes until we see a fair, open playing field for each and every citizen.
It's not as complex as we may want to believe. Our society faces two hurdles.
First, on the internal front, we've got to solve the national skills crisis. Of utmost importance is a workable national literacy strategy and action plan. Literacy forms the foundation of the Guyanese human capital base.
And, second, on the international front, we must engage Guyanese everywhere in the world in a real, dynamic and transforming way. Every single Guyanese wants to feel he or she is in the heartbeat of the nation, contributing to the pulse of the body politic.
Token, timid efforts to engage the Diaspora are not working. We've got to develop a Diaspora engagement strategy that works, that inspires Guyanese everywhere in the world with zeal and passion to contributing to our homeland.
Yesterday, news broke in the national media that the international and civic communities are again pressing Government to make local government elections happen this year.
The fiasco over local government elections is on a long list of failures the citizen encounters every day in this land.
We fail in efforts to clean up our capital city, and, hopefully, the news that litter wardens would patrol the streets would make a difference; the Justice system proves its lacklustre love for real justice with scant regard for crucial reforms, despite token modernization, like recording devices in court; and the Police Force faces serious problems in solving crimes, particularly organized crime.
In our work to develop our nation, we cannot allow the myriad of challenges to distract us from what's possible.
It is a useful technique to isolate the most crucial problem, focus energies solving that one fundamental weakness, and allow that to resonate across the structure of the society, to shore up and strengthen the whole.
With such an approach, we could tackle development with clearer vision, and quicker results.
We know the fundamental crucial problem we face as a society is the paucity of the Guyanese human capital base.
In fact, poor governance stems from this problem, because the leadership pool in the country remains small and, because of poor pay, ill-trained for developing this vast and blessed land.
We see lack of innovative thinking even at Parliament; a dearth of understanding the nuances of 21st century development thinking for local communities, across the State arena; and a leadership crisis of enormous worry.
Our society suffers in every way, from its moral and ethical development, to its project implementation ability and visionary leadership.
We could write a long list of positives for our nation, ranging from the natural richness of our land and the resources that we command, to the Anglo-Caribbean culture, which positions us for easy trade with Europe and North America and the Caribbean, to the natural giftedness of Guyanese, who migrate to live successfully abroad.
But when we look at the big picture in our homeland, we become frustrated. So if we reduce the cause of our under-development to a single common denominator, and tackle that one problem, we would be well on our way to making a difference for each and every Guyanese citizen, and cementing the foundation for rapid development.
Our neighbour, Brazil, is fast becoming a global power, and now boasts 26 global billionaires, according to Forbes magazine.
What's holding us back? Why is the Guyanese nation failing to engineer socio-economic development aligned to our national potential?
We can pinpoint one definite major problem stifling us: the poor state of our functional literacy, with its ripple effect in our inability to think innovation, to envision and create a modern socio-economic engine that hums to the rhythm of the global Knowledge Age.
This common denominator of what ails us, the poorly developed human capital base of the Guyanese nation, we could easily solve if we engage the Diaspora in a visionary, strategic, innovative way.
But this in itself calls for visionary, strategic leadership, which seems lacking, because of the skills crisis.
It's a vicious circle.
Yet, there is a solution despite our handicap, and we must brainstorm to generate it. We must create a solution that works, and fast, for it is of urgent importance.
As President of the United States Barack Obama said, literacy is the crucial factor in national development: "Education was the gateway to opportunity for me. … And now more than ever, it is the gateway to a middle-class life," President Obama said.
Around the Web