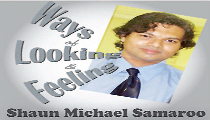 Clinton Urling wants to make a difference in how young Guyanese become leaders within their communities.
We see admirable efforts in this society to bring solutions, with a renewed energy from bright young Guyanese like Urling.
Folks like Eric Phillips and Faith Harding, quietly, with no fanfare and self-aggrandizement, shunning the political quagmire, already make a defining difference in local communities.
Urling gathered together a group of bright young minds and held a meeting this week at the Georgetown Chamber of Commerce and Industry. He wants ideas and creative ways to play a non-political, civic role on the national stage.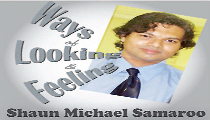 Young people across our society express disillusion, dismay and disheartened pessimism about the role of their Parliamentarians in generating solutions, in fuelling human development.
In fact we see little or no effort from our Members of Parliament to engineer solutions for the myriad of social problems baffling this nation. Our politicians bicker and fight and bawl in indignant disdain, hardly ever contributing solutions, original ideas or innovative initiatives. The few who are open and workable we must engage in authentic conversation and embracing reaching out.
Government may propose projects but too many of these generate wild controversy, become stagnant in inefficient management, and suffer from a Public Service crippled under the weight of mediocrity, unprofessionalism and the worst demoralization one could encounter in a workforce.
But we Guyanese never give up. We persevere. We dream and tackle the herculean task of personal development with determination.
Narendra Nauth, for example, graduated last year from the University of Guyana with a degree in Computer Science. Young, ambitious, skilled in web development and computer programming, Nauth plugs away with dogged determination to build his life into substantial progress.
Along with his partner, Samantha Seoprashad, Nauth works in his private company, recently registered. He holds down a full time job, dressing professionally every day formally, decked out with a tie. He travels by minibus to and from his home on the East Bank of Demerara to get to work in the city.
With an admirable work ethic, excellent demeanour and a dedicated determination to his personal development, Nauth symbolizes the future of this nation, if we could get our act together.
Sheoprashad, who is also a student at UG in the Computer Science programme, volunteers as a youth leader in her community, is deeply involved in cultural programmes, and works with Nauth to build their business.
Our Guyanese society suffers severe social breakdowns and crisis, especially in its social space. And folks like Nauth and Sheoprashad must navigate the harsh social terrain to circumvent the huge obstacles any self-developing person faces in this society.
We lack human development, and these young people who kick against the grain to lift themselves above the rut, even as things continue to fall part around them, give us hope as a nation.
With people like Urling and Nauth and Sheoprashad and Sara Bharrat, a linguistics UG student emerging as a vocal new thinker and outspoken advocate for a new national discourse, we see signs of a bright future, of what's possible.
These young minds are starting to think and advocate solutions, and to shun the political quicksand that drains the energy of this nation.
We see in them an effort to cultivate human development outside of Government, outside of Parliament, on a local community level.
This is how we generate solutions in this country. This is how we cultivate human development.
Take, for example, the exciting new development in this country whereby visually impaired people, the blind, could receive a full education, and write subjects at the Caribbean Examinations Council (CXC).
That incredible solution happened quietly, totally ground-up, a grassroots effort that got its catalyst when Raj Tribhuwan, a Canadian-Guyanese, of the Canadian non-profit agency The Raj Foundation, came to Guyana with the sole aim of transforming how the visually impaired experience life here.
After a series of meetings and sharing of resources, we today see the result achieved, and what seemed impossible two years ago is now inspiring reality.
We want to get Guyanese, especially our young, to a place where we see, think and act for solutions.
We cannot continue being people who criticize, who see scapegoats, who blame others for our state of being.
For 48 years, since political Independence, we've blamed each other, and the British, and American imperialism, and any and all imaginary enemies.
Today, we see Government antagonistic and hostile towards the United States Embassy and its efforts to contribute to our advance. The Embassy, in playing a role to clean up Georgetown, in its Democracy project, in its advocacy for free and fair Local Government Elections, must be lauded and applauded for wanting to see good things happen for us as a people.
Instead, our government holds up the United States Embassy as the enemy, accusing it of nefarious ulterior motives. How grotesque is such a stance.
We the nation of Guyana must ignore such infantile tantrums and irrational fears and silly, stupid idiocy, and strive to build our society.
We harbour among us the souls who take civic responsibility seriously. In citizens like Urling, Nauth, Sheoprashad, and scores of others, we see the willingness and effort to step out of personal safety nets to shape the wider social space.
We must encourage and propel these citizen initiatives. We cannot continue to sit with folded hands complaining and scapegoating others.
As much as we must ensure we investigate wrongdoings, such as corruption and national tragedies, like is happening now with the revelatory Walter Rodney Inquiry, and bring the culprits to justice, we must become a solution-oriented people.
We can lift ourselves as a society to see our visually impaired citizens being able to overcome the lapse in our education system to be able to achieve the highest form of secondary and tertiary education, we are capable of great achievements.
We can now expect a future where every visually impaired young person would become a graduate of the University of Guyana.
All that took was a ground-breaking move to form a working partnership between the Diaspora and local folks. The transformation resulting from that effort is a national miracle.
Urling's initiative could see such miracles homegrown.
Around the Web