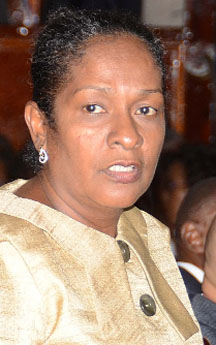 Deborah Jan Osman-Backer, Attorney-at-Law, former Deputy Speaker and Member of the National Assembly, died on Friday March 21, 2014, at the age of 54.
She graduated from the University of the West Indies' Hugh Wooding Law School in 1983 and practiced law for more than thirty years, doing a great deal of 'pro-bono' work particularly in the service of vulnerable women and children.
A founder member of the Guyana Association of Women Lawyers in April 1987, she envisaged its mission as that of providing legal advice to women and promoting women's rights.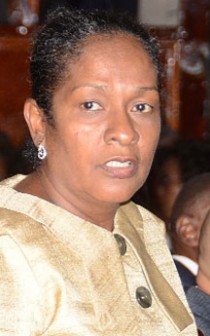 Osman-Backer also helped create the Linden Legal Aid Centre in April 2009 and served on its Board of Directors. The objectice of this institution was to support abused and exploited children in the mining town and to provide legal representation and assistance to women and children who had been victims of domestic and sexual violence.
Over time she became adept in the practice of mediation, succeeding in the shifting of several cases from the adversarial environmental of the court room to the more convivial environment of talking things through. Over time, she became one of the most successful mediators in the country.
This distinguished Guyanese woman's life was steeped in the values of her mother's family which had been established over more than a hundred years. She had come from a lineage of teachers, a circumstance that provided her with values that rested on the foundations of home, school and church. The Bishops' High School, which she attended, was considered the best girls' school of the day. Her leadership in the Guyana Society for the Blind, the International Association of Lions Clubs, were expressions of the value she placed on humanity.
Backer entered politics as a member of the People's National Congress and became a Councilor in the Georgetown City Council after winning a seat in the 1994 municipal elections. She entered national politics and became a member of the National Assembly in 1997. She remained a member through the 7th, 8th and 9th and 10th Parliaments. Illness forced her resignation from the     National Assembly in February 2014 during the life of the 10th Parliament.
A skilled and assertive debater, Backer was elected Deputy Speaker in January 2012.
She was married to Stephen Backer and the union bore two children, Nigel and Natasha.
Around the Web