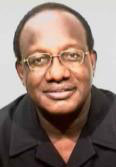 Born sixty-two years ago in the East Coast Demerara village of Plaisance, Clarke attended Queen's College from 1962-1969 where he established a reputation as an outstanding student and a know sportsman. In his tribute to Dr. Clarke Leader of the Opposition Brigadier (retd) David Granger wrote that during his soujourn at 'QC' Clarke was "the man to know in 'the compound' – a Sergeant in the Cadet Corps, prefect and sports personality of the year."
Later, he was to extend his appetite for academia beyond secondary school, earning a Bsc in Economics from the University of Guyana, a Bsc. in Commerce from the University of Windsor, in Canada, an MBA in Finance and International Business from the University of Windsor and a PhD in Monetary Economics from the University of the West Indies. These were the academic foundations upon which he pursued what was to become an outstanding career as an international publics servant.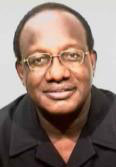 Much of his career was spent in pursuit of the idea of lifting poor states out of poverty and it is this, in large measure, that accounted for his service in poor countries where living conditions had been aggravated by warfare.
He served as Executive Director of the Caribbean Centre for Monetary Studies at UWI working with CARICOM's eight central banks to create a common Caribbean currency and editing with Donna Danns "The Financial Evolution of the Caribbean Community, 1970-1996." Dr. Clarke fought to help reshape the economies of poor states and to better the lives of ordinary people.
One of the most famous sons of one of Guyana's oldest villages, Clarke was the great nephew of John Theophilus 'JT' Clarke after whom the Guyana Defence Force's Colonel John Clarke Military School at Tacama is named, he developed, over time, an extraordinary commitment to the cause of improving his community and his country. While he had not lived in the village for over 36 years he never disengaged, persisting with sponsorship and support activities for women and children from whichever of the forty-two African states in which he lived and worked.
Around the Web