Miss World Guyana 2014 pageant underway
Contestants in the Miss World Guyana 2014 pageant commenced competition on May 12th with the Beach Beauty photo shoot, a release from the Miss World Guyana Committee said.
This event is one of five specialized segments that will allow the contestants to earn bonus points toward their preliminary scores.
The contestants, donned in swimsuits designed by Roger Gary, Marcie DeSantos, and others, displayed their creativity in positioning at the Pegasus. Photographer Keron Bruce, with photo direction from Roger Gary, captured the girls in the natural environment of the garden and pool side at the Pegasus.
The glam squad for this event comprised of make up artists  Andrew Harris, Tenisha Garnett, and Renee Thompson; hair stylists from Rebecca Cox's Hair and Nails salon; and lashes by Lowena's Novalash Nail Spa, the release added.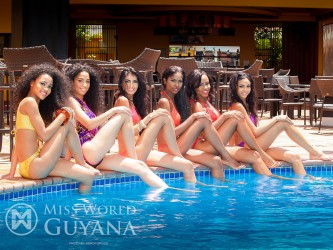 Most Read This Week