Sir Richard Cheltenham, newly-appointed Chairman of the international Commission of Inquiry (CoI) established to probe the death of political activist Dr Walter Rodney, is hopeful of beginning work in a month's time.
Sir Cheltenham, a Barbadian national, along with Jamaican Queen's Counsel (QC) Jacqueline Samuels-Brown and Trinidad and Tobago Senior Counsel (SC) Senath Jairam took the Oath of Office before President Donald Ramotar during a simple ceremony at the Office of the President today.
Dr Rodney, a renowned academic and political activist, died in a car near John and Bent streets on June 13, 1980, after a walkie-talkie, given to him by now deceased Guyana Defence Force member Gregory Smith, exploded. The People's National Congress (PNC) administration, then headed by late president Linden Forbes Burnham, whose governance practices had been opposed by Rodney, has long been blamed for the murder. The party, however, has continuously denied any responsibility.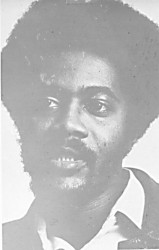 Noticeably absent at the swearing-in ceremony were members of the Working People's Alliance, of which Dr. Rodney was a co-leader at the time of his death.
Sir Cheltenham, who was knighted in 2005 and is also a QC and the holder of a Ph.D, sought assuage skepticism about usefulness of the CoI in light of the passage of time since Rodney's death.
"The fact that it happened 30 years or so ago need not be any bar to a full exposure of what took place and for the commission to make some firm conclusions," he said. He added that he had been advised that there will be over 100 persons testifying.
He added that there are many potential witnesses who did not want to give statements until the commission had been established. With the commission now set up, he said these persons would be ready to come forward to give their statements.
Samuels-Brown, is the attorney for the Office of the Contractor General, an anti-corruption agency. She represents both private citizens and those in public offices.
Jairam, a Guyanese by birth, is engaged in private practice in Trinidad and Tobago, where he is the current president of the Law Association of Trinidad and Tobago. He was also a former High Court judge.
In June last year, to coincide with the 33rd anniversary of Rodney's death, the PPP/C administration announced the decision to set up the international CoI, finally yielding to calls made during its over two decades in office.
Comments

Eighteen prisoners at the Lusignan penitentiary were being treated for injuries last night following a reported attempt to kill a fellow inmate during which warders fired shots.

A 12-year-old girl is now dead, while her brother narrowly escaped a similar fate yesterday after their aunt's La Bonne Intention (LBI), East Coast Demerara house, which they were under, collapsed on them.

Guyana has officially applied for membership in the European Union's Extractive Industries Transparency Initiative (EITI) which will help in tracking revenues from oil and other natural resources.

State Minister Joseph Harmon yesterday reiterated that President David Granger's directive to the Police Service Commission to halt its consideration of promotions was intended to prevent damage to the image of the Guyana Police Force but he could not say under what authority the head of state acted.

While saying that a strong security presence along the country's borders is the first line of defence against transnational criminal syndicates, President David Granger yesterday called for cooperation by all actors to see the security of Region Nine as a priority.