Almost 12 years after it joined Caricom, the relationship between Haiti and the community promises to be stronger following the presentation of credentials by plenipotentiary representative to Haiti, Peterson Noel.
In the simple ceremony held at the Caricom Secretariat Headquarters, at Turkeyen, Caricom Secretary-General Irwin LaRocque expressed pleasure at the accreditation of Haiti's first ambassador.
Despite being the first envoy to Caricom for his country, Noel is no stranger to the community. According to LaRocque, Noel is a pioneer in the secretariat's programme for attaching Haitian professionals to the organisation back in 2008. Noel was also the first Haitian government official initially attached to the Caricom Representation Office in Haiti (CROH) and then to the Foreign and Community Relations Directorate of the Secretariat. "Much like your country, Excellency, you have been a trailblazer and therefore it seems only fitting that you be vested with the honour of being Haiti's first plenipotentiary representative to Caricom," LaRocque said.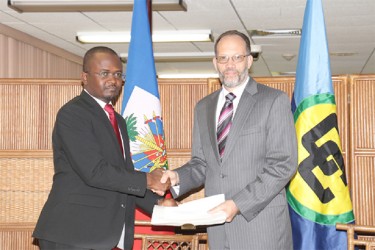 The Secretary-General said he regarded the presentation of the accreditation as a reaffirmation of the strong role Haiti plays in the community. Accord-ing to LaRocque, Haiti's benefits to the community will include a market of nearly ten million people, unsuspected natural assets, and a rich cultural heritage.
LaRocque voiced confidence in Noel's abilities despite the difficulties associated with the job. "Though your responsibilities and tasks are onerous, we are convinced that you are well equipped to handle them and will bring new insight and energy to our own efforts to further integration," he said.
In his remarks, Noel used the opportunity to encourage people from within the region to take full advantage of Haiti's accession into the community, emphasizing the efforts being made to fully integrate the Caricom Single Market and Economy (CSME) and to diversify trading partners.
Noel has now joined several other ambassadors to the community including plenipotentiary to Barbados Robert Morris, Mexico's plenipotentiary Franciso Olguín and America's, Brent Hardt.