A 78-year-old US citizen and a 38-year-old Guyanese model were yesterday refused bail after they were separately charged with trafficking in cocaine that was concealed in achar.
Chief Magistrate Priya Sewnarine-Beharry before whom Winston Blakes and Sadeeka Leona Odie appeared at the Georgetown Magistrates' Courts, put their cases down for hearing on Friday at the Providence Magistrate's Court.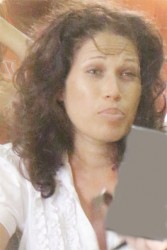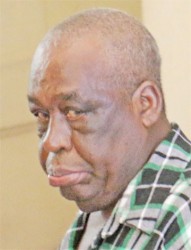 Blakes and Odie were both outgoing passengers on Caribbean Airlines flight BW526, bound for the JFK Airport, NY, when they were busted at the Cheddi Jagan International Airport (CJIA) on Saturday, allegedly with 10.658 kilogrammes (kg) and 9.274kg of cocaine respectively.
Blakes, who was born in Guyana but resides in the US and Odie, who models for a local art school, both denied the drug trafficking charges laid against them.
With regard to Blakes, Customs Anti-Narcotics Unit (CANU) Prosecutor Oswald Massiah told the court that he had become acquainted with persons during his stay in Guyana. One of those persons, he said, was a woman named Dawn, whom he had informed of his February 8, return to the US. Massiah said that on February 6, Blakes, who was staying at Lot 121 Meadow Brook Gardens, was visited by one of the woman's associates.
On that visit, he was given the package that concealed the drug, in what appeared to be achar. According to Massiah, he gave the person access to his suitcase, in which the drug was concealed.
On February 8, he took a taxi and left for the CJIA, where, acting on information, a CANU rank on duty searched his suitcase. Massiah said the drug looked like nutmeg and was well varnished. Blakes was cautioned, the suspected cocaine was weighed in his presence and he was later charged.
In the case of Odie, a single mother of five children ranging in ages from 7 to 18 years old, of Lot 186 Thomas Street, Kitty, Massiah told the court that she has a US visa and had visited that country before. She allegedly made arrangements to take achar to the US for a fee of US$10,000.
Massiah said Odie was given a US$4,000 advance and her ticket was purchased by a man, who she said was from Republic Park. Again, he added, an alert CANU rank on duty, acted on information and searched her luggage that was not yet aboard the plane and unearthed the suspicious package.
Attorney Mark Waldron, who represented Blakes, said the fact that CANU was not disputing Blakes's story that someone who befriended him asked him to carry a jar of achar, and he therefore had no knowledge of the concealed cocaine, was a special reason for his client to be granted bail. Waldron urged the court to consider that the 78-year-old man grew up in an era of trust.
Meanwhile, Attorney Paul Fung-A-Fat, who represented Odie, reiterated that the drug was concealed in achar and suggested that there was no way, save for a scientific analysis, the woman would have been able to detect the concealed cocaine in the package.
Both lawyers' efforts to secure bail failed and their clients were remanded to prison and the matter transferred to the Providence Magistrate's Court.