Something of a fixture at the corner of North Road and Orange Walk, Nandaram Sawh can be seen night or day chopping fresh water coconuts for his thirsty customers who he says flock to him because of his mantra, "the customer comes first."
Sawh known as 'Buddy' and 'Pops,' does not always chop the coconuts himself because his two sons work alongside him, but he has been part of the business since he was a child. The operation does not appear to be an elaborate one, but Sawh is the proud proprietor and boasts about it being the longest surviving water-coconut business in the country.
"We are the oldest coconut vendor in the entire Guyana and being controlled by one family…I can bear testimony to anybody," Sawh said, not entertaining any debate on the issue.
Sporting his straw hat, the vendor is surrounded by mountains of coconut and he chops them with the deftness that comes with experience as he tells this newspaper the story behind the business, and fills bottle after bottle for customers who have made orders. He interrupted the interview every so often to attend to his customers, most of whom are interested in the small 'gaff' as much as they are in their coconut.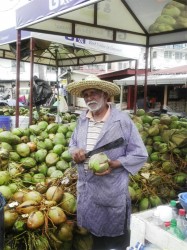 Nothing much  seems to have changed since the business started 56 years ago, except that there is now a GT&T shed advertising Buddy & Sons. In a recent interview with the Sunday Stabroek Sawh envisaged it being passed down from one generation to the next into the indefinite future.
Maybe when 'Buddy's' father first started selling water coconuts 56 years ago he did not envision that so many years later the business would be still up and running – and stronger too. But some years down the line he decided that it was something he wanted to remain in the Sawh family. 'Buddy' said that before his mother died she wanted to ensure that her husband's legacy continued and she so willed that the business must only be handed down to the sons in the family.
Sawh and his brothers initially took over the business but eventually he was the only sibling left operating it and today he is assisted by his two sons who already have sons of their own, who, once their grandfather has his way, would be incorporated into the operations and be expected to bequeath it to their sons.
Even with direct competition – there is another coconut operation right next door which also sports a GT&T shed – Sawh said that the business has expanded over the years and today he supplies coconut water to many companies.  He does not mind the competition; that operation has been there for many years as well, and they each have their own regular customers.
The coconut business was not always Sawh's main interest in life, as he worked with the Guyana Sugar Corporation (GuySuCo) for eleven years and even spent time in the US, but in the end the survival of the business his father had started became his focus.
"I left there and went to New York and work for some time," he told this newspaper, "but then I thought it was better to continue the family business." However, he did admit that the fact his family was not with him in the US also contributed to his decision to return.
At that time the business was being operated by his father and two his brothers who later left for neighbouring Suriname, and his father said to him "come stay with me here." He then resigned from GuySuCo in 1983 as a senior guard where he earned $383 a month. When he started working with his father Sawh said he was paid up to $300 a week and never less than $200.
Eventually his father passed away and Sawh and a brother took over, but his brother also died and he later took his two sons, Anil and Anand, into the business.
After 37 years at the corner Sawh said he knows some may think the business is not profitable, but he has seen the benefits and he touts self-employment: "Being self-employed is profitable to me because what you make there is yours …and of course we pay our taxes. The percentage of profit is not basic but when the week comes we know we don't have to go on strike, we don't have to tell people please raise my salary and so on."
And the business also provides income to others as Sawh said there are six regular suppliers from as far as Essequibo who sell them coconuts almost every day. Sawh needs a dependable supply of coconuts because of his large clientele, which includes two of the country's largest hotels, private and public sector companies, diplomatic missions and government agencies.
Those contracts, Sawh said, were obtained because of the manner in which they operate with the public, and while profit is important there were times when they would give a coconut even if the customer did not have the exact money.
"The way we conduct our business we always had one thing since my father days, saying the customer is our priority, the customer is always right. And so the way we talk to the people and do our business it enhances it…" he told the Sunday Stabroek.
And he talked about sterilising the bottles he uses to "the highest quality" revealing that bleach, soapsuds, hot water and lemons are also used to ensure the cleanliness of the bottles and as he spoke he pointed to the buckets filled with water and cut lemons and bottles floating at the top.
Culture and tourism
From their vantage point Sawh said they get firsthand experience of the country's culture and what interests tourists. For him everything happens in the market square – his operation is just behind the Bourda Market and in fact he has a small operation in the market itself – and the country's rich culture is on display in its many facets.
"Many tourists come directly around [here] to experience our culture…" Sawh said, adding that his business also adds to the cultural atmosphere of the area.
Every night one of the family members sleeps at the location because they sell from the wee hours of the morning to very late at night.
The business would open from around 4am in the morning and go till about 11pm at night and sometimes business is better at night than during the day, he said. The sons and himself  operate the business on a shift basis, he explained, to ensure that everyone gets some family time at home.
His wife died about eight years ago but Sawh said he has since remarried because he was lonely, and now his current wife sells in the stall in the market. When it is their time to be at home, however, his daughters-in-law take over the stall. For that business they make their own pepper sauce and achar as well as selling dry coconuts and other local produce they purchase.
But his experiences have not always been pleasant, as Sawh recounted that about eight years ago he was attacked and beaten by two bandits while taking a nap, and was only saved by pretending he was a 'junkie.' The bandits had guns and today he still bears a scar on his head from the wound which was inflicted when he was lashed with one of the guns.
"It was gun butt, and gun butt…" he recalled adding he went to police training school while he worked at GuySuCo and as such he had the benefit of "old police tactics" which helped to save him.
"But the beauty of this corner, ethnicity does not have anything to do with it; whether you are Black or Indian we all live as one. When I give the shout after they gone about eight Black guys come to my rescue and one of them took me till home…" Sawh said. He went on to say that in his business race, creed or religion does not come into play, and everyone is treated equally: "Being out here I see all the cultures and I participate in all…and I must respect everybody's culture."
For Sawh the business would continue for many more years and he advises that anything one undertakes, one should be dedicated and "do it wholeheartedly."
"Believe in what you are doing and do what you believe in…do not have pride, greed and lust for anything; continue in one way of life and in any business you have try to focus your attention on God and everything will go well," Sawh said.
And just maybe all the benefits of the water coconut that he talks about are what makes some of his customers keep returning.
"You live long by living on young water coconut; water coconut get rid of all the impurities and so on… The preservative ones they have is no good, these are naturals, organic…" he said of the product he sells.
And once Sawh has his way and instils the passion and drive for the water coconut business in his children and grandchildren, it may very well be around for another 56 years.
Around the Web