The Guyana Revenue Authority (GRA) has launched an online tax and mobile payment system, with the hopes of promoting greater transparency while making access convenient to taxpayers.
In addition to its Online and Tele-Banking Payment Option System, which was accessible as of yesterday to persons with internet access, the GRA also unveiled a new automated driver's licence with increased security features.
Speaking at the launch yesterday at GRA's Camp Street headquarters, Public Relations Manager Marcia Harris said taxpayers can now make payments of income, property and other taxes from the comfort of their homes, a mobile phone or wherever they have access to the internet.
In addition, the authority has also partnered with Grace Kennedy to enable customers to make tax payments at Bill Express locations countrywide, and through Demerara Bank as of yesterday, and, in another few days, at the Guyana Bank for Trade and Industry (GBTI) and Republic Bank (Guyana) as well.
It was also disclosed at the launching yesterday that taxpayers will also have access to other locations in addition to GRA's Camp Street offices, in an attempt to reduce traffic flow and congestion at the central location.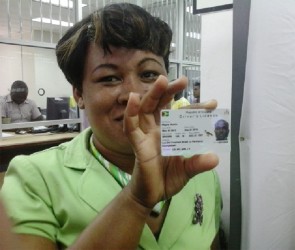 GRA Commissioner-General Khurshid Sattaur said tax payment locations will be set up at out-of-town locations, such as Diamond, East Bank Demerara and Mahaica, East Coast Demerara, so customers living in those areas and who do not have access to the internet can go to nearby locations to transact business as opposed to travelling to Georgetown.
Harris said the benefits of the new initiatives vary for both taxpayers and the GRA. She explained that since the GRA moved to its new Camp Street location, the organisation has been faced with challenges, particularly in the area of accommodation. "We have been facing a lot of congestion here because [of] a large number of taxpayers who visit this location, in particular, close to due dates," Harris said.
She also explained that the filing of income, property tax and other returns is due by April 30 and added that GRA wants to ensure that the new system is completely in place prior to that date so that taxpayers will be able to have a more comfortable experience.
She emphasised that customers will not be required to visit GRA's Camp Street location with the new electronic system and added that the system, in keeping with GRA's vision and mission, is an initiative taken to improve taxpayers' experience as the organization seeks to advance technologically and build a more robust tax system.
"GRA is also an organisation that has been perceived as a corrupt organisation by persons in many quarters and we also believe that with the launching of these two initiatives we will be able to eliminate that perception, at least to a great extent because taxpayers will no longer be interfacing with our staff here at GRA because you no longer have to come here to make your payments. Thus, by making your payments from home, bribing a tax collector or asking for an inducement will be eradicated," Harris said.
In speaking about the automated driver's licence, Wayne Austin, Senior Manager of the Licence Revenue Office, said the computer-generated plastic licence is a part of GRA's vision of promoting integrity and making it more convenient through modern systems for the taxpayer.
The automated driver's licence, which is about the size of an Identification Card, will allow for a more secured driver's licence and is not easily forged, Harris said, while adding that it is also more durable than the paper licence which is presently being used.
Sattaur said customers will see a lot more improvements happening throughout this year within GRA as it moves to a more technologically-advanced system. He said there will be a major improvement in the way the tax system is rolled out to taxpayers.
In the near future, Sattaur hinted, customers will be able to have access to GRA's services through the GRA website, allowing for taxes to be paid, submissions of tax returns, submissions of C-72 declarations and submissions of the employer's monthly tax submissions. He said these initiatives will be formally launched very soon.
He noted that GRA finally has an automated system for the driver's licence, which was preceded by the automated system of registration, the automated system of issuing the motor vehicle annual renewal of licence and the business licence.
"This means that we will be able to step up the level of anti-corruption and we will able to support law enforcement agencies in their fight to deal with people who commit crimes. We will be able to provide photo identification to those agencies that require photo identification. We are working at getting this as an acceptable level of photo identification and there will be added features, such as a bar code reader," Sattaur added.
However, GRA says only the private car licence holders at present will have access to the new automated plastic licence. The conductors, provisional and hire car licences will remain the same until full automation is completed.
Automated licences will be extended to the other regions when the automation rollout is completed and the cost to obtain a licence temporarily re-mains the same because the same information on the present licence is being used.
But when all the features of the new licence are completed and an extended expiration date is included, the cost to obtain the new licence will be increased, this newspaper was told.
In addition, the new licences would be given to licence holders and new applicants in phases to avoid overcrowding, a GRA official said.
GRA plans to educate the public on these new systems.
Around the Web