The establishment of a Community Policing Group to help tackle the crime wave in the Fort Ordnance Housing Scheme (East Canje, Berbice) is one of the major accomplishments of DAFO.
Formed in January 2013, the Development Association of Fort Ordinance (DAFO) is a community-based group aimed at developing the relatively new housing scheme economically, socially and environmentally. Thus, from its inception, the group identified several areas on which to focus its attention including Security, Youth Development, Women's Welfare and Sports.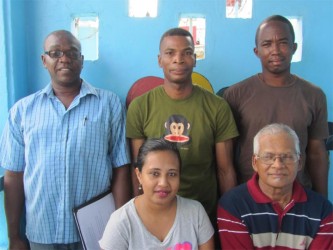 The housing scheme which is approximately 12 years old was plagued with breaking and entering and burglaries, armed robberies and a few petty crimes. To curb the crime rate, the main goal of the association in its first year was to establish a community policing group and this became a reality in October 2013. "The shops in the area as well as the residences of villagers were the main targets of 'junkies' seeking to make a quick dollar so as to afford their next 'fix'," DAFO chairman Stanley Jacobs explained. "We as a community decided that we need to be each other's keepers. Even though we came from different parts of the country to live here, we realized that we are now one big extended family who needs to watch each other's back; that's the only way we are going to survive."
Jacobs disclosed that in the past, residents would "mind their own business and not pay attention to what was happening in the community around them." However, with the establishment of the community policing group, residents have become more active and vigilant and they have seen a visible decrease in petty crimes perpetrated in the housing scheme.
The group has a five-member executive committee which includes Jacobs as chairman, Collin Caesar as vice-chairman, Adrian Bess as treasurer, Glenn Shivrattan – Youth Officer and Rohini Sooklall – Women's Welfare Officer. They meet twice per month to discuss ways in which they can further improve and develop the housing scheme.
"We saw the need for an association in the scheme because while it is a government created housing scheme, there is only so much the government does in terms of development and we as residents can and should contribute towards the development of the community in which we live," said Caesar who is responsible for the planning and execution of the group's fund raising activities. Currently, the group is undertaking two major projects, namely the installation of street lights and the naming of the streets in the housing scheme. To accomplish the former, a Bar-B-Que/Fun Day was held last year in the ball field at the entrance of the housing scheme to raise funds. Monies garnered were used to purchase three street lights which will be installed in the neighbourhood in the not so distant future.
While the association is already one year old it is still yet to receive the full support of all the residents of the community, a situation the executive committee is hoping to change in 2014, since the accomplishments of its goals is dependent on its fund raisers and the support of public spirited persons both residents and non-residents of the fort Ordinance Housing Scheme. To this end, the executive members are embarking on a membership drive. "We are there to help the community and are asking for the cooperation of all the residents of Fort Ordinance Housing Scheme," remarked Caesar who went on to encourage persons to "feel free to come on board; we are willing to take advice, so approach us."
Around the Web