The Ministry of Culture, Youth and Sport has launched its first Old Student Association for the Kuru Kuru Training Centre's Youth Entrepreneurial Skills Training (YEST) Pro-gramme with the aim of consolidating on the achievements that have already been made.
A release from the Government Information Agency (GINA) said that Assistant Director of Youth, Davenand Ramdatt, speaking at the launch at the Carifesta Sports Complex, said that the ministry aims to establish alumni bodies at other centres where the YEST programme is offered, such as: the Sophia Training Centre, Smythfield Drop-in Centre/Vryman's Erven Training Centre and the New Opportunity Corps.
He advised that this initiative will be done in a structured way with a coordinating team and an executive committee established with clear terms of references to work with the KKTC's administration to improve youth development and enhance the overall operations of the centre.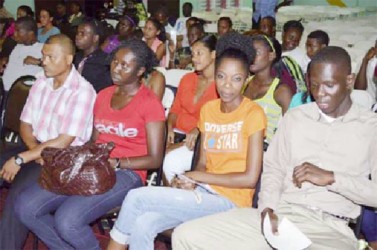 According to the release, the ministry has also commenced work on developing a strategic plan for the KKTC. This will focus on better resources utilisation (mainly its 730 acres of land), review the relevance of the courses offered, and work closely with the TVET council to achieve the Caribbean Vocational Qualifications (CVQ). These objectives will enhance the curriculum delivery and students' marketability in Guyana and in the wider Caribbean.
Permanent Secretary Alfred King said that the investments that the government had made under the YEST programme have been giving good returns.  He said that today many persons who have successfully graduated from the programme are gainfully employed and/or have become entrepreneurs; while some have moved on to attain higher education at various technical institutes.
"We want you to seriously discuss the mandate, vision and guiding principles as a group… if well thought out, the intervention can impact positively on the development of the institution," the Permanent Secretary told the former students.
Last year, 424 students graduated from the four centres of the YEST programme. Since the programme's start in 2000, a total of 3,481 students have successfully graduated, the release added.
Around the Web