A section of the Hyde Park sea defence broke away on Monday evening, resulting in flooding after high tides later hit the area.
The East Bank Essequibo village's river defence was breached around 19:00 hours on Monday and was hit by high tides early yesterday morning. According to a press statement from the Ministry of Public Works a 15-foot breach developed in the sea defence owing to the wearing away of the existing earthen embankment.
The Sea and River Defence Force Account Unit, which was mobilized to undertake emergency repairs on sea defences which were in a critical state, yesterday temporarily fixed the breached section of the embankment. Reconstruction work has been programmed under the Caribbean Development Bank-funded 3rd Sea Defence Project.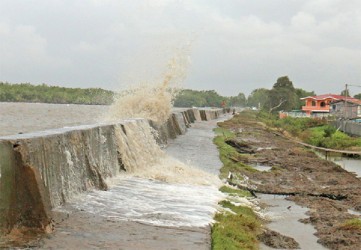 Mohamed Akeem, a shop keeper, told Stabroek News last night that the spring tide started around 04:00 hours yesterday   morning and quickly rose, damaging products in his shop. "All the fridge and freezer damage up… even the goods in the shop," he said.
He said the water eventually swamped his entire bottom flat and shop. "The water was 12 inches in the kitchen," he said.
Dane Drakes, another villager, said he was shocked by the height of the flooding, noting that business at the Wash Bay where he works was stalled for the entire day. He added that the Ministry of Public Works visited the village in the afternoon and built up the embankment with mud, to deter further damage from the spring tide.