Accused of trying to stab his friend to death during a misunderstanding, a Port Kaituma man was yesterday remanded to prison.
Steven Belle, 21, of Waterfront, Port Kaituma was not required to plead to the charge over the attempted murder of Brandon Edwards when it was read to him by Chief Magistrate Priya Sewnarine-Beharry at the Georgetown Magistrates' Court 1. On March 29, at Turn Basin at around 7:30pm, Belle and Edwards had been at a shop in Turn Basin, Port Kaituma when they had a misunderstanding. According to Prosecutor Michael Grant, Belle armed himself with a knife and dealt Edwards several stabs to the abdomen and quickly fled the scene afterwards.
An unconscious Edwards was picked up by patrons of the shop, rushed to the Port Kaituma Hospital and was subsequently airlifted out of the region to Georgetown, where he was admitted to the Georgetown Public Hospital (GPH).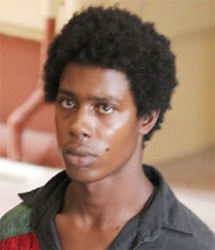 The matter was reported and Belle was eventually arrested and charged, Grant said. Edwards was absent from yesterday's proceedings due to his hospitalisation. Although the charge was indictable, attorney Euclin Gomes nevertheless requested bail for his client, who is a porter.
Prosecutor Grant objected, however, citing the nature of the offence as well as the fact that Edwards was a patient of the intensive care unit of GPH as his reasons.
As a result, Belle was remanded to prison until April 3, when his attorney will have an opportunity to make a bail application once more.