Guyana Trans United (GTU) and the Society Against Sexual Orientation Discrimination (SASOD) are hosting a week-long 'Stand Against Transphobia' photographic exhibition as part of observances for International Transgender Day of Visibility.
Celebrated on March 31, International Transgender Day of Visibility aims to raise awareness of the discrimination faced by transgender persons and highlight accomplishments, SASOD said in a press release
"It is also an important day for allies and stakeholders to show their support for transgender people," SASOD said. The exhibition, which is funded by Equal Rights Trust, the Delegation of the European Union to Guyana (EU) and the Joint United Nations Programme on HIV and AIDS (UNAIDS), is the first one held in Guyana celebrating transgender persons and was launched on the Transgender Day. It was opened by Dr Shanti Singh, Programme Manager at the National AIDS Programme Secretariat.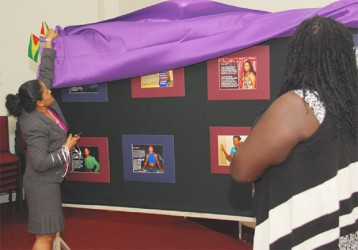 In giving an overview, SASOD Co-Chair Ulelli Verbeke who is the photographer and curator of the exhibition, said she was affected by the forthrightness of transgender persons who consented to be featured in this pioneering work.
"Each photo portrays a trans-woman and is annotated with a brief quote on their lives and accomplishments," she said. "The women featured in this exhibition are fearless and I am honoured to have had the opportunity to work with each of them on this project."
Meanwhile, GTU member Twinkle, in her keynote address, shared her experiences from the time she discovered that she was "a woman trapped in a man's body" and the discrimination she faced from family and peers. According to the press release, GTU is a collective of transgender and gender non-conforming Guyanese working to empower trans Guyanese communities to advocate for their human rights and participate as equal citizens in decision-making processes at all levels of the society.
Derek Lambe, Charge d'Affaires for the EU Delegation, said the EU considers human rights and fundamental freedoms to be the "silver thread" running through its actions both at home and in its external relations.
"The EU's position is that the rights of lesbian, gay, bisexual, transgender  and intersex (LGBTI) persons are protected under existing international human rights laws and that transgender, and LGBI, persons have the same rights as all other individuals – no new human rights  are created for them; but neither should any be denied them," he said. The EU also encourages the Guyana government to repeal the laws criminalising same sex intimacy and cross-dressing. "We fully support SASOD and Guyana Trans United in their efforts in this area. The EU demonstrates its support for LGBTI issues in relations with the Government, n public statements, in international fora and also in providing funding to assist civil society organisations," Lambe said.
According to SASOD, the participation of transgender Guyanese in this showing is particularly courageous in the local context where the laws criminalise cross-dressing and there have been police crackdowns against working-class transgender women, the group said. In September 2013 decision, Chief Justice (ag.) Ian Chang ruled that cross-dressing in public is only a crime if it is done for "improper purpose." The judge did not clarify the meaning of the ""improper purpose" nor did he indicate what improper purposes gave rise to the February 2009 police crackdown against cross-dressing." SASOD and the four trans litigants are appealing this and other aspects of Chang's decision, the press release said.
The exhibition is being held in the lobby of the National Library until Saturday.
Around the Web