The kidnappers of 40-year-old East Coast Demerara (ECD) businessman Rajendra Singh are now requesting a ransom of $25 million, plus the surveillance tapes from the night of the kidnapping before his return.
The initial demand was for $50 million.
Friends of the family told the media yesterday that on Saturday, March 5, Singh and his wife, both of Hope West, Enmore, ECD were closing their Foulis public road business when two men jumped out of a bus and walked into the business establishment posing as customers.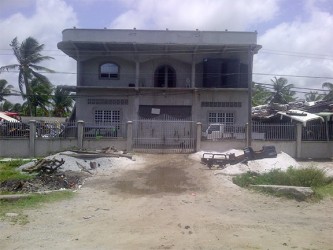 They eventually brandished weapons and proceeded to assault Singh and his wife.
The men then reportedly took the day's earnings, asked for the keys to one of the couple's vehicles, put Singh in the trunk, and drove off with him. One family friend said that the man's wife rushed for another vehicle and tried to follow her husband's captors, but did not locate them.
This version differs from the police account of what transpired.
The Guyana Police Force issued a press release yesterday which said that "investigations so far indicate that Rajendra Singh was in his motor vehicle PFF 982 in front of his business place when his wife observed two men entering the vehicle which then drove off."
The statement also said that the car was later discovered on the Goedverwagting Railway Embankment, ECD by members of the community policing group. The evening of the abduction, Singh's wife received a phone call demanding $50 million for his return.  A family friend told Stabroek News yesterday that the call for the revised ransom ($25 million) was made yesterday morning.
The reason for the revised ransom is not known, but this newspaper understands that Singh's family might not have been able to pay the initial amount.
This newspaper was also told that the kidnappers were initially after Singh's 13-year-old son, but then decided to take the father when they realized the boy was not with his parents on Saturday evening. Also, Singh's business place (the scene of the crime) is fitted with several surveillance cameras, which explains why the kidnappers are requesting the tapes from the night of the abduction.
Police investigations are ongoing.
Around the Web