Now at the start of his pre-retirement leave, Assistant Commissioner of police Eric Bassant is already planning the next chapter of his life: the priesthood.
"I have been pointed in this direction for quite a number of years," Bassant told Stabroek News in recent interview, where he noted that he would be forever grateful to the Guyana Police Force (GPF) for instilling good values in him and ensuring that he took the path to success.
He also urged those remaining members of the hierarchy of the force to continue to develop good community relations and build on the existing foundation and sacrifices made to ensure that the country had the best police force possible.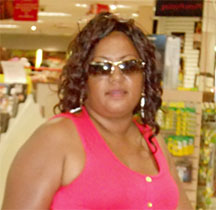 A succession plan, Bassant said, is desperately needed, as it can be clearly see that the force lacks the senior ranks that it needs. He was referring to the fact that recently a number of senior ranks had left, either as a result of retirement or for other reasons. Bassant proceeded on pre-retirement leave two weeks ago and will officially retire in October.
Police Commissioner Leroy Brumell took his leave from Tuesday and 'A' Division commander George Vyphuis proceeded on his pre-retirement leave from Wednesday.
Bassant noted that there are no systems in place to fill this void created by the exodus of senior ranks. He said that promotions should not be a factor. "System should always be in place to avoid this happening. This is the second time in a row that this would have occurred. This would indeed pose a challenge to the administration of the force," he said.
Bassant was sworn in as a police constable on July 20, 1982. "It seems like if it was only yesterday," he said. Prior to being sworn in, he spent nine months in training at the Felix Austin Police College and while there he recalled he was exposed to a high level of discipline. "There was no compromise in those days. If you would have lapsed in one way or the other in terms of discipline, there was the mid-day train where they place blocks in your hand and you had to run around the tarmac…" he said, adding that this sort of thing helped to mould ranks. Often when one person did something wrong, the entire course was punished, he recalled. Asked if he was ever subjected to this form of punishment, he said with a smile that he did quite a few laps around the tarmac.
That training and in particular the inculcation of discipline, he said, is what proved to be the stepping stone for his successful career. When he joined the force he was 20 years old. He initially wanted to join the army. On the way there, he stopped at Eve Leary with a friend for an unrelated issue and while there he was advised to go and sit the exam. He took that advice and according to him the exam was "pretty easy."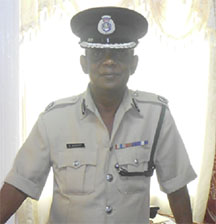 Some time later, he noted, a policeman visited his home and instructed that he pack his bags and report to the training college. "My introduction to the training college was not an easy one…" he recalled, before adding that he was taken across to the police officers' mess where he was introduced to a load of sand and a spade. Now laughing, he said he constantly glanced at the policeman guarding the gate and immediately remembered the instructor saying that if they tried to get away they would be locked up.
As part of his training, Bassant was placed on 'beat duty,' during which he and others were sent out to various places around Georgetown and its environs to patrol. He spent about six months doing this before returning to the college. During his training, he also did short stints at the Ruimveldt and Providence police stations.
Following his training, he was seconded to the force's stores section, where he spent a number of years before being put in charge of the Kitty Police Station. At the time he was heading that station he held the rank of Assistant Superintendent of Police. He was later transferred back to the stores section and subsequently spent a few months at the training school where he was the coordinator of a junior officers' course, among other things. He was also deployed to the Tactical Services Unit (TSU) and was in charge of patrols.
Bassant up until his pre-retirement leave had a rounded police career.  He was the head of 'G,' 'D,' and 'C' Divisions and the Special Constabulary and also held senior positions in 'A' and 'B' Divisions and the Immigration Department.
Asked how he had felt being named the head of 'G' Division at a time when some would have described him as inexperienced, Bassant said that he recognised then that the administration of the force was preparing him for leadership. He noted too that this was not a division that had issues with serious crimes. "It was an area to mould and shape you for the bigger divisions," he explained.
 Biggest challenge
Bassant described 'C' Division (East Coast) as his biggest challenge. He said it was one of the most important divisions as it was a bridge between 'A' Division and 'B' Division.
"If 'A' Division sneezes and 'B' Division has a fever, C Division catches the cold," he said. "We were interlinked in terms of these two divisions," he added, while explaining that as a result of this situation, there was constant planning and discussions about how the crime situation and other incidents within the division were going to be handled. He headed the division for about a year.
He stressed that there is always a need for ranks and more resources.  But he said that the need cannot be put "as a factor even though it is a factor" for not getting the job done. "You look at what you have and you deal with the situations as they arise," he said.
He went on to state that while some investigations had posed some challenges, the police were successful in other areas, such as raids and firearms seizures.
He added that among the successes in 'C' Division was the fact that the police were able to make a breakthrough in the troubled community of Buxton by forming youth and scout groups. He recalled that the first meeting with residents was not an easy one: "The trust between the community and the police wasn't there. After some time a compromise was reached. In time the relationship grew." A similar move has been made in Sophia, he said.
When it comes to getting things done in 'C' Division, Bassant said, a partnership is needed: "There is no way that the police can work by themselves; the two parties have to work together in partnership," and he emphasised the importance of community participation.
 Partnerships
Speaking about his time in 'D' Division, which is also regarded as a tough division, he said that the first time he was there was shortly after police were accused of burning the genitals of a teen who had been implicated in a murder.
He said that he immediately recognised that "we had a lot to do with confidence building, damage control and how we are going to get the people back on our side." He said that he believed that things have since been handled "pretty well," particularly through outreaches. Ranks went with an action plan – to listen to the concerns and to deal with them thereafter. "We recognised the importance of the Community Policing and the Neighbourhood Policing. These are the people in the community and they are the ones who are interacting directly with the community. So we start to get our message through to them and then we start going out into the field and deal with issues," he said, adding that they have since been able to bring the crime situation under control.
Asked about the challenges and successes during his brief command of the division, Bassant said that when he took command last year it was just after the killing of a businessman's son. "In such a situation, especially when you have a riled up community, it is time for less talking and more action," he said.
He said that action was taken by conducting raids and engaging with members of the community in outreaches. Other crime fighting tools were also put into action. "I think I left the division quiet reasonable. Better than how I met it," he added, while also pointing out that faith-based organisations and the minibus and hire car associations have also partnered with the police. In this light, he stressed that successful crime fighting does not involve the police alone, but is all about partnerships.
Bassant also urged all the stakeholders with whom he had interacted  to continue because "they are in the hands of a capable commander who is a committed officer and who I know will make a very good commander."
Looking towards his retirement, he insisted that he will never forget the force. During his career, he said, there were times when he felt frustrated but he held his foot firm. In spite of the challenges, he said that if he had to he would start as a policeman all over again. He said that his experiences and time in the force have moulded him into the man that he is today. He noted that this is a job that you "have to love with heart. If you don't it is pointless for you to join the force."
Family is something that Bassant holds very close to his heart. He is married to Farida Bassant, with whom he fathered seven children–one boy and six girls. Farida, who sat in on the interview, said being the wife of a policeman was "pretty hard" as her husband was not always around because of work. She said she would always have to handle the queries of the children, who wanted to know "when daddy coming home?" Despite all the challenges and the possibility of her husband dying in the line of duty, she was never so concerned that she thought he should leave the force, but instead prayed for God to protect him and the other members of the force.
She said that when she met him, he was in training and they married when he became a member of the force. She said that she has never one day regretted that step and never questions why it was that she chose to become a policeman's wife. Farida said that now her husband is home, she can enjoy him—a remark that caused him to blush.
Around the Web