A Charlestown resident is now remanded to prison after being accused of carrying out a knife-point stick-up on Lombard Street. Ron Collins, 19, of Lot 6 Ketley Street, denied that he held Molly Culpepper at knife-point and robbed her of a BlackBerry smartphone, valued at $80,000, $60,000, a leather purse valued at $6,000 and shades valued at $20,000 on April 4.
It is the prosecution's case that on the day in question at 1 pm, Collins held Culpepper at knife point when she exited the Ramroop's Furniture Store on Lombard Street.
Prosecutor Michael Grant told the court that the defendant approached Culpepper, placed the knife to her neck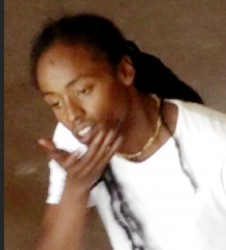 and demanded her bag. Grant added that Culpepper refused, only to have the knife pressed to her neck. It was then the unsuspecting woman handed over the mentioned articles to Collins, who made good his escape. The matter was later reported and Collins was arrested and charged. The court heard that the stolen items were recovered and were found in Collins' possession.
Grant objected to bail being granted to the unrepresented Collins. He objected on the grounds of the seriousness and prevalence of the offence, the nature and gravity of the offence, and the fact that the articles were found on him.
Chief Magistrate Priya Sewnarine-Beharry subsequently remanded Collins and adjourned the matter.
The case will be called again on April 22, when statements are to be filed.
Around the Web