Women can be protected from violence if men are helped to overcome violence triggers, according to AFC MP Valerie Garrido-Lowe.
Lashing out at what she saw as insufficient allocations by government in the budget towards developing programmes to enhance the safety of women. Garrido-Lowe told her fellow Members of Parlia-ment (MPs) last Friday that violence against women in Guyana has risen to frightening proportions.
She also criticised the "Stamp It Out" campaign which was championed by Priya Manickchand when she held the Human Services portfolio as insufficient. The Human Services Ministry, the AFC MP charged, needs to do more to keep women safe and she suggested that helping men deal with the issues confronting them may be a place to start.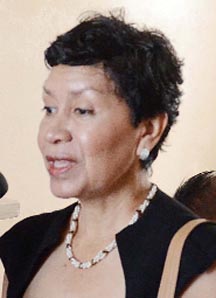 "Clearly men are stressed, and most of it has to do with finances," she said. She added that in most vulnerable families, there are insufficient finances to last a month, and men, in response to this, suffer from helplessness and depression. Garrido-Lowe also told her colleagues that men suffer from prostate cancer more than women, and that they tend to be mentally and emotionally unstable.
According to the MP, these issues continue to befall men despite the efforts of the Men's Bureau. She also encouraged more women to take up leadership roles as she is convinced that this will increase Guyana's chances of becoming a better country. She suggested the establishment of Ministry of Women's Affairs which, among other things, will be responsible for conduction research and fashioning programmes to increase the safety of women.
Paltry pensions
Like many of her colleagues in the opposition AFC and APNU, she also took aim at the $625 proposed increase in old age pensions. She knocked the increase as "shocking" and "disappointing" and asked her government counterparts how they expected pensioners to live on the "paltry" sum. With government's proposed increase, pensions will rise to $13,125 from the current $12,500, with effect from May 1.
Garrido-Lowe also suggested that a "retirement village" would be ideal for those who whose relatives cannot afford to take care of them, as well as for those whose relatives do not have the time to do so.
Hinterland neglect
She also criticised amounts allocated towards the hinterland communities. The MP said that hinterland areas, where the mining operations are situated, contribute the most to the Gross Domestic Product but attract the lowest allocations. The roads, bridges and other infrastructure in these regions, she said, should be the best. She argued that the opposite occurs currently, saying that whatever the construction and rehabilitative works that are undertaken are in fact badly done, and that the contractors who are guilty of the work continue to be awarded contracts. In response, she said regional tender boards by now should be able to identify defaulting contractors and blacklist them when issuing contracts.
Around the Web