APNU member Sydney Allicock is urging government to rethink its approach to crafting the budget, saying that representatives need to sit with residents of communities to have a firsthand view of needs and recommendations before making about spending.
"Hand outs and hand me downs are not the answer. In most cases the government rushes to address the effects of our problems but fail to see the cause of those problems. In the process, the problems persist and are multiplied because we are far removed from the centre," Allicock said last Friday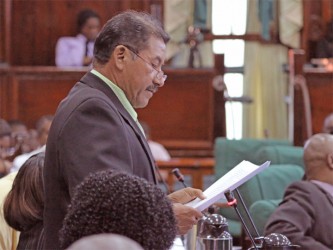 during his presentation on the government's proposed $220 billion budget.
He said that he holds firm that before the budget is approved, the administration has to "Go and come again."
Allicock, who is from Region Nine, also lamented that a section from Kurupukari to Linden was never completed although it is integral in the lives of residents of his region.
"Every passenger, every driver and road user are saying that this trail has no more space for holes, even the holes are getting holes," he said.
Meanwhile, Renis Morian, an APNU parliamentarian who resides in Region 10, also spoke on Friday and he urged that contracts for his region be given to qualified persons from the community. Morian said that this was needed as Lindeners are already highest on the unemployment scale and the jobs will go towards much needed income. He said he has been assured by Minister of Public Works Robeson Benn that this will be done even as he requested a copy of all works planned for this year.
Also speaking on Friday was PPP/C member Odinga Lumumba, whose presentation saw a halt in the proceedings over a reference to Opposition Leader David Granger.
He was at the time comparing the opposition's stance on allocations for Linden against those for GuySuCo.
"Any attempt to starve GuySuCo can be interpreted as ethnic cleansing. What is good for the goose is good for the gander. Opposition Leader David Granger and his shadow minister of gloom and doom MP Carl Greenidge suggest that a survival subvention for GuySuCo represents waste," he said.
"Those who take this stand run the risk of being mistaken as architects of ethnic and geographical discrimination. Let us not forget Rwanda, Kosovo and Hitler Germany, Idi Amini Uganda, South Sudan… and many others," he added.
Granger immediately rose in objection and asked for a retraction of the remarks as he questioned if he was being likened to the genocidal dictators in the countries mentioned.
This cause a furore between the government and opposition sides and Deputy Speaker Basil Williams was forced to suspend the session to sort the matter.
Lumumba later returned to the floor and he said that while he understood it was a contentious presentation, he in no way meant for anyone in the assembly to be termed racist.
He said that since over $20 billion in subsidies was given to the Linden Electricity Company since 2004, he saw no reason why there should be an objection to this year's $6 billion bailout for GuySuCo.
Around the Web