APNU Member of Parliament James Bond yesterday questioned the vision for the improvement of the justice sector in this year's budget, while suggesting that key areas are being underfunded and therefore could reverse progress.
"A good budget for the judicial services sector must be measured by one thing only and that is: Does it substantially elevate the performance of the judiciary? I give a resounding no in this instance," Bond told the National Assembly during his contribution to the budget debate, where he also urged Finance Minister Dr Ashni Singh to establish a good working relationship with APNUs chief spokesperson on finance Carl Greenidge.
Bond said as a Guyanese he was happy with the country's 5% Gross Domestic Product (GDP) growth but unhappy with the pittance being spent in the justice sector.  He pointed out that this year' budget proposes $111,655,000 for the Chambers of the Director of Public Prosecutions, $288,401,000 for the Ministry of Legal Affairs, and $1,410,018,000 for the Supreme Court of the Judicature.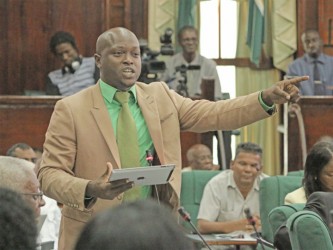 According to Bond, the allocations in totality have the "collective effect of strangulating the sector and pegging back little gains achieved by the Justice Improvement Programme…." Bond, a practicing attorney, argued that if the PPP/C administration were progressive it would have had another phase in programme in place for 2014 to commence as soon as the 2013 phase would have concluded. "…Simply because, the improvement of the delivery of justice to the Guyanese people ought to be a priority for any caring administration and its continuity would always be as a matter of course," he said.
Bond described the sum allocated for the Legal Aid Clinic in this year's proposed budget as "paltry." He pointed out that the clinic was engineered to cater for the poor but questioned how the government could say it catered for the poor when it starves the clinic of funds. While it was the PPP/C that started the clinic, Bond said, it "makes no sense starting something and quitting halfway." He further declared, "They have abandoned their own child."
He also called for the complement of judges to be increased to 35. He further questioned how the minister could speak of a strong and effective system when judges are left without legal support staff. He added that they cannot speak about an increase in the complement of judges to reduce backlog without equipping them with the support staff they need to churn out decisions in a timely manner.
Bond argued for a good working relationship between Singh, whom he described as "one of the good sons," and Greenidge, whose institutional memory, he said, must not be taken for granted nor his intellectual prowess ignored.
A better life
Meanwhile, PPP/C MP and former Labour Minister Manzoor Nadir, who also spoke yesterday, praised the administration for giving Guyanese a better life. According to Nadir, the 4,000 "hard working" citizens who built homes last year are being accused by the opposition of laundering drug money. He said too that Speaker Raphael Trotman himself has said that he has seen many reports indicating there is money laundering in the construction sector. However, Trotman interjected and pointed out that in fact what he had said was that the narco-trade has permeated every sector, which would include the housing sector and that this does not mean that every person who built a home did so with drug money.
Nadir noted that the construction sector today accounts for 10% of the country's gross domestic product (GDP), while pointing out that $80 billion was spent last year in the construction sector. He said the New Building Society (NBS) in 2009 had reported that it approved over a thousand mortgage applications totalling $4 billion; in 2010, he said, there was a little over 800 approvals to the tune of $2.4 billion; in 2011, over 1,100 at $5 billion; in 2012 over 1,600 to the value of $7.2 billion; and last year over 1,700 to the value of $8 billion.
Nadir also spoke about the "albatross" that was placed around the necks of the people of Guyana by the PNC regime and he said many are still today suffering the effects. He said that while the government is being told that it cannot manage anything, the PNC regime divested the Guyana Telephone & Telegraph Company and signed an agreement which gave the company a 20-year monopoly over landline and international data which could be renewed solely by the company.
He said this decision was of the entire cabinet and in response to a comment from Greenidge, he said "You had your say in cabinet in the 1980s and you screwed it up."
Many of the opposition members started to object to this statement and Trotman intervened, asking Nadir to monitor his emotions and his words.  Nadir, in response, said that he would "withdraw screw up and use mess up.
"So when we hear this pontification from the other side about the mismanagement of this government… we have to get passionate, we have to get very passionate about it," he said.
Later, Bond, in response to criticisms levelled by Nadir against the PNC's management of the country, pointed out that Nadir presided over a party that was once a force to be reckoned with but it has disintegrated. "You have to keep your own house together, your own house in order," Bond said in reference to the almost now non-existent The United Force (TUF) party.
Nadir also got into another tangle with Greenidge when he said the APNU member had stated he had "manipulated exchange rates so that GuySuCo could show a paper profit."
Greenidge objected, saying that he did not make any mention of manipulation and called on Nadir to stick to what he said. He said he spoke about exchange rate policy and adding that what he had spoken about was quite acceptable monetary policies.
He later said that Nadir did not understand economics.
Trotman said he could not recall Greenidge using the word "manipulation," which has a negative connotation attached, and he undertook to have the transcript made available.
Nadir said if the opposition parties cut the budget this year, they would really be cutting serious investment in developing the physical and social infrastructure of the country and he questioned why they would want to do so.
Around the Web