The man accused of severely beating a 61-year-old woman and burgling her shop on March 24, was remanded to prison two days later after he appeared in a West Bank Demerara court.
Milwantee Budhram is still suffering from minor pains about the body, according to her son Khemraj Budhram.
He also informed Stabroek News that Junior Forester appeared in the Wales Magistrate's Court on March 26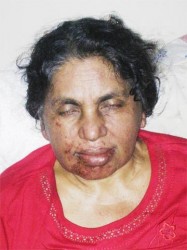 and was remanded to prison. He will make another court appearance on April 14.
Milwantee Budhram known as Aunty Baby, was at home alone in the lower flat of a two-storey building, when Forester allegedly broke in through a window and dealt her blows about the body, while he demanded $400,000 and her son's cement money.
"Me and he start fuh fight," the woman had told Stabroek News. She said he asked her if she was not dead yet. Minutes later, Budhram said, she faked death by collapsing on the burglar.
After the burglar thought she was dead, he ran out of the house into the shop a few feet away, packing himself a bag of toiletries, underwear and groceries before leaving.
Budhram's son, Khemraj Budhram, who was out of the country at the time of the robbery, said it was the fourth robbery the family had suffered.
This time however, his mother had been physically attacked.
Around the Web