APNU MP Joan Baveghems says the "man-in-the-street" has seen government's proposal $10,000 allocation this year for parents with a child in school as an attempt to buy their votes and she said the money could have been better spent on school buses.
"According to the man-in-the-street, the government is trying to buy their votes but I don't know if the minister heard the song they are singing, 'Not a blade of grass, not one cuirass.' We love the one seat majority," Baveghems told the National Assembly last Friday,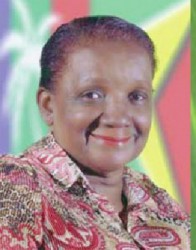 when she made her presentation on the proposed national budget.
Providing school buses, she said, would have been a better measure. "At thirty-eight weeks per school year, I deducted one week for interruptions and national holidays and that money translates to approximately $53 per day. We are still short $7 for a one side short drop fare around the city. What guarantee is there that parents will spend the money, even though inadequate, on the intended purpose?" she questioned.
She also said that while billions have been allocated to the education sector, she was not sure who benefits. "Teachers are a major stakeholder in the delivery of education but we do not hear anything in the budget to improve the welfare of teachers…. To add insult to the teacher, the Gravity Lounge was reserved for a luncheon, not for teachers, but for the officials and staff of the Ministry of Education," she added.
Baveghems focused on a number of issues in her presentation, including the old age pension and the National Insurance Scheme, and the city's garbage woes.
Among the measures in the proposed $220 billion budget is a 5% increase in old age pension, taking it to $13,125 from the current $12,500, with effect from May 1. In response, Baveghems said she would want Minister of Finance Ashni Singh to "treat the pensioners as if they were his parents.
"What can six hundred dollars to for them? The pensioners have to pay for proper medical care, purchase medication, drinking water and personal products to have them looking and smelling good. This is not cheap I assure you," Baveghems said.
She also observed that while the National Insurance Scheme (NIS) is supposed to provide relief to workers who become ill, disabled or old, the complaints are numerous regarding the inability of contributors to get their benefits in a timely manner. "Some pensioners even complain of not getting their benefits at all. This state of affairs has resulted in some persons calling this institute, the National Institute of Swindlers," she told the Assembly.
With regard to garbage, she charged that there is a "Champion of the Earth and a Doctor of the Environment [an allusion to honours bestowed upon former president Bharrat Jagdeo] but at almost every street corner there is garbage."
Baveghems added that "Le Repentir Cemetery has been renamed Le Repentir Forestry and I am hoping that the funds allocated to clean up our Garden City are indeed used to clean up our city. How can we have a Champion of the Earth and a Doctor of the Environment and our environment is in such a deplorable state?" she questioned.
PPP/C Chief Whip Gail Teixeira, hearing this, heckled, "You want him to give back the award?"
Around the Web