In the light of the recent decision by the Council of Legal Education (CLE) to bar all non-UWI students from entering the Hugh Wooding Law School, APNU MP Basil Williams said that main opposition coalition is calling on the government to find a long-term solution.
"It is not enough for the government to say it has set up a team to look at the question of a local law school for our law graduates of the University of Guyana.
In fact, the government had dropped the ball some years ago, when the same issue surfaced as a result of its own myopic policies.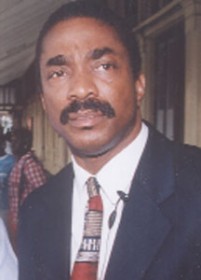 We cannot continue to have our law students uncertain about their future," Williams argued, as the 2014 budget debates continued on Monday.
With respect to the judicial system, Williams pointed out that while the party welcomes the increase of the complement of judges to 20 to increase capacity, it also recognises that it does not amount to the perfect ratio of judges for the population.
He further argued that the increase needs to be complemented with adequate facilities, transparency in the manner of appointing judges, and a fully constituted Judicial Service Commission, among things.
Williams also noted that while APNU welcomes the introduction of voice recording capacity in the courts, its introduction should not be confined to the civil courts. "…It is an uncontroverted fact that in the criminal assizes, the importance of capturing every word of a witness, cannot be overemphasised nor the need for speedy trials.
APNU recommends that voice recording capacity be forthwith installed in the Criminal Assizes," he stressed.
Williams also used his presentation to address the stalled anti-money laundering bill, while arguing that APNU's amendments will go a long way in improving the country's anti-money laundering architecture.
To this end, he said APNU is prepared to assist the passage of the anti-money laundering bill after certain conditions are met. These, he said, include "the government agreeing to the APNU's amendments sim-ultaneous passage through the house; the Minister of Local Govern-ment must issue the commencement order to make operational the Local Government Commission Act; the government must return the Local Govern-ment (amendment) Bill 2012 to the National Assembly and secure its passage by a two thirds majority, for its return to the President for his assent, by the 13th day of May, 2014 and the government must return all five (including the last mentioned bill) bills from which he had withheld his assent, to the National As-sembly, for passage by a simple majority," he stressed.
Williams also spoke about the Walter Rodney Commission of Inquiry and he was critical of the failure to consult with the opposition on its establishment and he urged that President Donald Ramotar rectify the situation.
Around the Web