The Customs Anti-Narcotics Unit (CANU) earlier today issued a wanted bulletin for a city florist in connection with the recent discovery of seven kilogrammes of cocaine in pastries.
The wanted bulletin identified the man as Raul Anthony Chin, 37, of 299 Berbice Street, Lamaha Springs. He was described as a florist/interior decorator.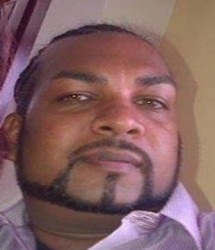 The drugs were intercepted on Sunday at the Cheddi Jagan International Airport, Timehri by CANU ranks during a search of a suitcase belonging to an outgoing passenger.
The man Nicholas Harinandan, 37, of 103 Fort Ordnance, Berbice who was heading to the JFK airport at the time was later charged with possession of cocaine for the purpose of trafficking. He has since denied the allegation and is on remand.
CANU Prosecutor Oswald Massiah had said during the court appearance that on the day in question, Harinandan was an outgoing passenger at the CJIA to the United States of America, when his luggage was passed through a scanner at the airport. He said CANU officers on duty asked the defendant if he had packed the two suitcases himself and he replied in the affirmative. Massiah said the officer then commenced a search that resulted in a quantity of cocaine laced pastries being found. Cheese rolls, pine tarts and packages of mettai when broken, all had cocaine concealed in plastic, Massiah said.
He added that a complete extraction was done and the suspected cocaine weighed in the defendant's presence. The court heard too that cocaine was also found in the sole of a Clarks shoe in one of Harinandan's suitcases.
Around the Web