Ernest Elliot yesterday took the oath of office becoming the new APNU Member of Parliament and replacement for Jaipaul Sharma who resigned last week following offensive statements made by Education Minister Priya Manickchand.
Moments after the 2 pm start of the sitting, Speaker Raphael Trotman said that Elliot's name was extracted from the APNU list of candidates following Sharma's resignation. He said that on April 7 (Monday) Elliot was declared to be an elected Member of Parliament. All that remained was for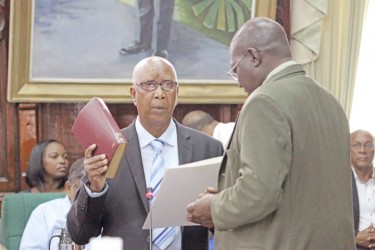 him to take an oath as required by the Article 176 of the Constitution so he can take part in the proceedings of the National Assembly.
Trotman, in welcoming Elliot to the House, described him as a veteran as he had served in the ninth parliament, representing Region Four, Georgetown/ Mahaica.
An expressionless Elliot then made his way to his seat. He now sits in the same seat that Sharma previously sat in.
Last Tuesday during the budget debate Manickchand had made comments alluding to the statutory rape charges against Sharma's father, CN Sharma. Trotman had intervened. Initially, he censured the minister over her comment and asking her to apologise, but without success, which led to him imposing a ban on her.
However, two days later Trotman reversed that decision saying he was satisfied that the minister meant no disrespect to Sharma and that even the APNU MP did not feel that he was the one being impugned, but rather his father.
Sharma has since refuted this stating that when he objected it was never his intention for Manickchand to apologise to his father but rather to him, since he was the only Sharma sitting in the House and it was not the first time she had made reference to his father's legal troubles.
On Thursday, Sharma tendered his resignation to the Speaker. He subsequently told Stabroek News that he felt Manickchand would not let up and that she wanted to make him her toy and as such he resigned so as not to hurt the party.
The following day, APNU members created a ruckus, ensuring that Manickchand could not make her presentation in the House until she apologized and this forced to Speaker to adjourn the sitting. On Monday the minister did make her presentation but without the presence of the opposition as they left the chambers when she rose to speak.
Granger had told this newspaper on Sunday that Elliot was the lead candidate and this was the party's choice.
Around the Web