The Guyana Revenue Authority yesterday continued its Random Selection of Imports for Examination and the names drawn were Ansa McAl Trading Limited, Guyana National News-papers Limited, Industrial Fabrications Incorporated, Gafsons and Wartsila Operations Guyana Incor-porated.
The five large-scale importers will see their imports that have been lodged on April 4 and April 7, being examined in critical detail, with the public and media being invited to observe.
Yesterday marked the nineteenth execution of the random selection process which has been occurring twice weekly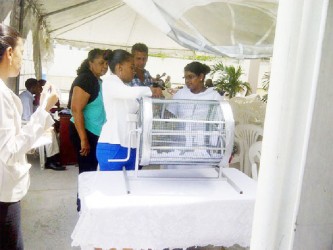 since February. The process involves the placement of all the names of importers – there were 300 yesterday – who would have lodged containers from the period of the last draw to the current day into a lotto roller cage.
These would have been verified by the organisation's Internal Auditor, who ensures that all names have been placed into the device. Members of the public, within the premises of GRA are then asked to pull out one name with their eyes turned away until five names have been selected. Each name is read aloud and recorded by the Internal Auditor. The process is conducted by the Supervisor, Public Relations Office, Latoya Martin and overseen by the Communications Officer, Fabian Clowes. A date is later announced for the physical examination of the containers on both the Facebook page of GRA and via press releases. Photos of each exercise are also placed online for the public to see.
The initiative that was launched on February 4, replaces the previous system of computer generated names for examination. Clowes, the official spokesperson, stated that the reason for the change was to improve transparency, eliminating all suspicion of bids and develop public confidence in GRA.
Around the Web