Popular NTN Channel 69 and NTN radio 89.1 FM announcer Ossie Rodgers was granted bail yesterday on charges that he assaulted a 13-year-old girl and used threatening behaviour towards her mother.
Sitting at the Sparendaam Magistrate's Court, Magistrate Alex Moore granted Rodgers $25,000 bail on the assault charge and $15,000 bail on the threatening behaviour charge, after the prosecution announced that the investigations into the matter were not completed.
The magistrate reasoned that the basis for Rodgers being remanded at the last hearing, was the fear of safety expressed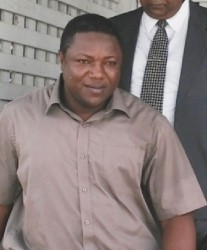 by the teenage virtual complainant (VC). However, he addressed that by attaching conditions to bail. Rodgers is not to contact the teen, visit her home nor its environs. Furthermore, Rodgers was also told to refrain from sending agents for the said purposes.
Attorney Dexter Todd, representing Rodgers, then made known his fear that purported agents could contact the VC and land his client in contempt of the court order. But the magistrate told the attorney that would be an uphill task but pointed out that Rodgers' involvement would have to be proven.
Prosecutor Anthony told the court that investigations into the matter would be concluded within three weeks. She said other charges may be filed against the accused.
Rodgers, 39 of Lot 52 Atlantic View, denied that on March 26, at Industry, East Coast Demerara, he assaulted the teenager, causing her actual bodily harm. He further denied that on the same day, he threatened her mother with a piece of wood. The VC and her mother were present at yesterday's proceedings.
Meanwhile, a smiling Rodgers was seen exiting the court in the company of two supporters. Subas Ganesh appeared in association with Todd on behalf of Rodgers.
The matter will be called again on May 8 for report.
Around the Web