Guyana's Foreign Affairs Minister Carolyn Rodrigues-Birkett said the political instability in Venezuela has prevented a technical meeting between the two nations to discuss maritime boundaries.
Guyana and Venezuela representatives were set to meet since February to further discuss maritime delimination after the exploring vessel, MV Teknik Perdana, was seized by Caracas and later released in October 2013.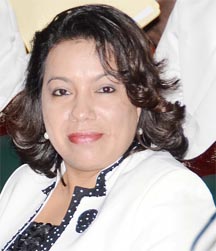 The vessel was indirectly under contract with Anadarko Petroleum Corporation to explore the Roraima Block with a view to determining whether commercial quantities of hydrocarbon existed. As a result of the seizure the plans have been shelved.
Minister Rodrigues-Birkett stated that by the end of the month a meeting will take place between Guyana and Venezuela. During her 2014 budget address Rodrigues-Birkett said that Guyana's relationship with all neighbouring countries will continue to be reinforced.
"Guyana views not only its diplomatic, political and trade links with the rest of South America, but also the infrastructure initiatives that are being pursued," she said. "Key amongst those is the Corentyne River Bridge that will, with the existing Takutu Bridge, allow for the transport of goods by land from Albina in eastern Suriname, to Lethem and Boa Vista in Brazil and farther afield."
Rodrigues-Birkett continued "we are very pleased with the developments thus far, in terms of the discussions with the Chinese Government and the Government of Suriname regarding the construction of the Corentyne Bridge.  Budget 2014 includes resources to commence the infrastructure that will be needed on our side of the river."
The foreign affairs minister highlighted that looking forward Guyanese had to become bilingual. She said the Spanish language training initiative that began in 2013 will continue in April 2014 and be inclusive of officials in tourism and customs and immigration.
Moving on to Caricom, the foreign affairs minister expressed concern that the Trinidad and Tobago health minister may be considering the implementation of health cards to clamp down on non-nationals receiving free medical care. She said she was requesting a full report on what transpired with regard to a Guyanese tourist dying because he was denied treatment at a hospital in Trinidad because he was not a T&T citizen.
Rodrigues-Birkett said, "I have spoken with my Trinidadian colleague and he promised to submit a report on what transpired. He did not mention that what was reported is untrue." She stated, "I must indicate my deep concern with the remarks of the Minister of Health of Trinidad and Tobago when he wondered aloud about setting up a policy where visitors must have medical insurance before they enter that country. This is very worrying especially since it comes from the country that benefits most from the CSM and has implications for nationals from all Caricom countries."
The minister stated that involvement with Caricom has seen Guyana double its exports in 2013 compared to 2012. She said that in 2013 Guyana exported $22.3 billion to the region, while in 2012 that figure was $10.3 billion.
Trade agreements will be entered into in 2014, Rodrigues-Birkett stated. She said that this year the results of the Caricom assessment of bilateral trade agreements will be outlined to allow for countries to take advantage of potential opportunity and look at possible supply side constraints.
Meanwhile the APNU's shadow foreign affairs minister Africo Selman stated that the $3.5 billion allocated to improve foreign trade in Guyana was not enough. She said the budget had to reflect fiscal responsibility that would ensure mechanisms were put in place to allow for the protection of sovereignty.
She highlighted the expulsion of the MV Teknik Perdana from Guyana's Exclusive Economic Zone, by Venezuela as well as former issues with Suriname stating that Guyana needs to be more aggressive in protecting its sovereignty.
Selman said offshore exploration had real potential for development in Guyana. She said the Guyanese public needed an explanation into how the recent uprising in Venezuela is, and could further impact Guyana. She stated that it was not just issues with sovereignty, but also trade and investments directly with Venezuela that needed to be addressed by the government.
She stated that through continued diplomacy, Guyana needed to build on its foreign policy inclusive of the appointment of ambassadors. She called for an adjustment on how much money is to be allocated to the various embassies and consulates.
Around the Web